---
Random House Launches George R. R. Martin Box as Part of 20th Anniversary Celebration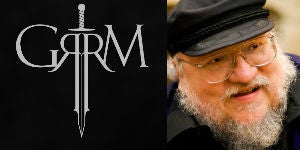 Random House has announced that it will release the George R. R. Martin Box in conjunction with the bestselling author and HBO Global Licensing®. Pre-orders are now available for three editions of the book box, which includes collectibles, exclusive items, and a special version of the 20th Anniversary Edition of Martin's A GAME OF THRONES, the first book in his bestselling series A Song of Ice and Fire, the basis for the award-winning HBO® series.  This Collectible Edition is not available in stores and will include an alternate cover printed on special materials as well as a full-color insert of all illustrations from the 20th Anniversary Edition.
All George R. R. Martin Box editions will be on display and available for pre-order at New York Comic Con, from October 6–9, and are also available for pre-order at grrmbox.com.
Scott Shannon, Executive Vice President and Publisher of Digital Content at Random House, said, "We are tremendously excited to partner with George and HBO to celebrate the 20th Anniversary of George's groundbreaking fantasy series. We have been thrilled to see the fan base of A Song of Ice and Fire grow and expand over the past 20 years, and we think fans of the books and the HBO series will be delighted."
George R. R. Martin wrote, in part, on his blog grrm.livejournal.com: "As part of the celebration Random House is releasing not only the book itself, which is fully illustrated and leather bound, but also three special LIMITED editions that will include exclusive hand picked items in a gorgeous wooden display box. Random House will be hosting a live online unboxing event on Facebook tomorrow if you want to catch this live sneak peak showing of just what to expect in one of their special, limited, and ultra limited editions of the one and only GRRM box."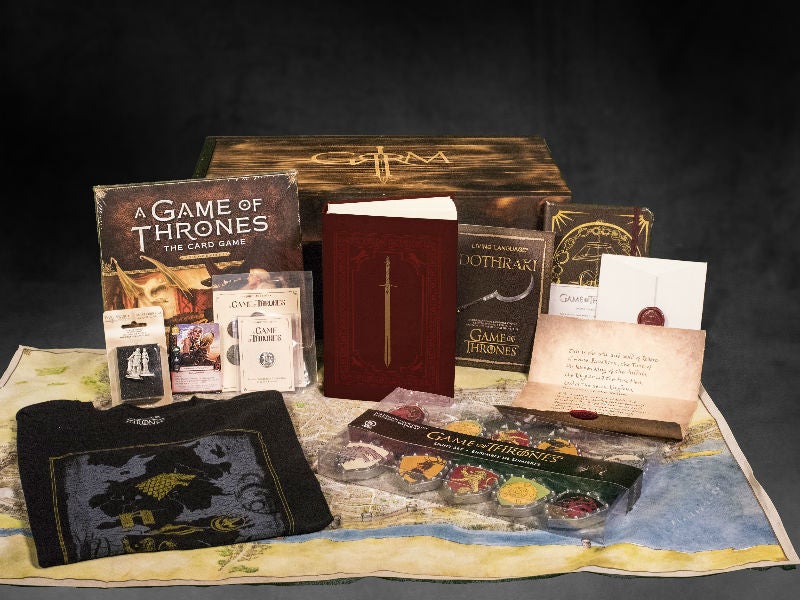 Available for pre-order now for shipping to consumers in the US and Canada in December,
The book box will be available for a limited time while supplies last in three versions:
Special Edition includes the Collectible Edition of A Game of Thrones bound in eco-trim fiber with gilded pages and a ribbon marker, as well as an exclusive T-shirt, a reproduction of Robert Baratheon's will, an iron coin of the Faceless Man, and Living Language Dothraki.
Limited Edition includes all the items from the Special Edition. It also comes with A Game of Thrones: The Card Game with an exclusive card, holiday lights, exclusive miniatures of Lord Commander Jon Snow and Queen Daenerys, an exclusive Maester's journal, and a limited edition silk map of King's Landing. All items are packaged in a box printed with illustrations from the Collectible Edition of A Game of Thrones.
Ultra-Limited Edition (limit of 200) includes a bonded leather-bound version of the Collectible Edition of A Game of Thrones signed by author George R. R. Martin, and all the items from the Limited Edition. All items are packaged in a wood box, lined in velvet, and engraved with George R. R. Martin's symbol.
Posted: October 5, 2016