Prince Harry and Meghan, The Duke and Duchess of Sussex, Visit P.S. 123 Mahalia Jackson School in Harlem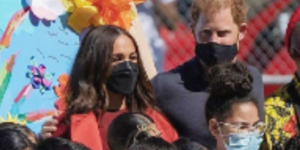 Prince Harry and Meghan, The Duke and Duchess of Sussex, joined NYC Schools Chancellor Meisha Porter on a visit to P.S. 123, a community school in Harlem that provides wraparound services to students through their partnership with Graham Windham, a nonprofit in New York City that provides youth and family service programs.
During the visit, which took place on Friday, September 24, they highlighted key initiatives at the school, read THE BENCH to a class of 2nd graders, and were shown a mural painted by 4th and 5th grade students. As part of the City's commitment to Universal Literacy and through the Department of Education's Academic Recovery Plan, NYC is investing in universal literacy screeners for K-2 students this school year to measure student progress in reading and writing and address the pandemic's impact on learning.
Prince Harry and Meghan were accompanied by Principal Melitina Hernandez and two student ambassadors. To support the school's ongoing community efforts, the Duke and Duchess are donating two garden boxes filled with vegetables and herbs to help support a growing need in the community for easy access to fresh and healthy food.
Archewell worked with partner Proctor & Gamble to stock P.S. 123's pantry with free-of-cost products to help families take care of their personal health and hygiene and create clean and healthy homes. Additionally, they will be donating a washing machine and dryer for the school to use for students' uniforms. The Duchess of Sussex is also donating reading nooks to many Graham Windham locations in New York City, to support families' access to books and facilitate bonding opportunities for parents and children. And First Book, in partnership with Penguin Random House, will donate books through their nationwide network of educators serving kids in underserved communities.
Posted: September 27, 2021