anchor
September 18, 2017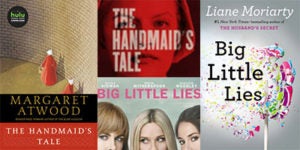 Hit television series based on Margaret Atwood's THE HANDMAID'S TALE (Anchor) and Liane Moriarty's BIG LITTLE LIES (Berkley) won a combined 11 awards at the 69th annual Emmy Awards Sunday night, September 17, in Los Angeles.  
expand
[caption id="attachment_7796" align="alignright" width="300"]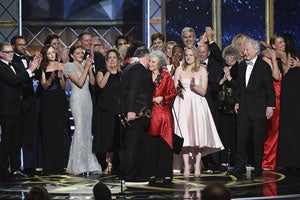 Photo Credit: Inwood/AP[/caption]
The Handmaid's Tale,
airing on Hulu, won in six categories:  Outstanding Drama Series; Lead Actress, Drama Series (Elisabeth Moss); Supporting Actress, Drama Series (Ann Dowd); Guest Actress, Drama Series (Alexis Bledel); Directing for a Drama Series (Reed Morano); and Writing for Drama Series (Bruce Miller).   Several acceptance speeches praised and expressed gratitude to Ms. Atwood. Ms. Moss said, ""Thank you for what you did in 1985 and thank you for what you continue to do."  Ms. Atwood received a standing ovation as she walked onto the stage when
The Handmaid's Tale  
won
Outstanding Drama Series.
Big Little Lies,
airing on HBO, won in five categories: Outstanding Limited Series; Lead Actress, Limited Series or Movie (Nicole Kidman); Supporting Actress, Limited Series or Movie (Laura Dern), Supporting Actor, Limited Series or Movie (Alexander Skarsgard); and Directing for a Limited Series (Jean-Marc Vallée).  BIG LITTLE LIES author Liane Moriarty was thanked a number of times, including by Nicole Kidman, who thanked Ms. Moriarty for writing a book "that presented strong, multi-dimensional women." Also,
Alec Baldwin
, author of the upcoming Penguin Press book,
YOU CAN'T SPELL AMERICA WITHOUT ME
, won the Emmy Award for Best Supporting Actor, Comedy (
Saturday Night Live
). 
W. Kamau Bell
, author of the Dutton title,
THE AWKWARD THOUGHTS OF W. KAMAU BELL
, won the Emmy for Unstructured Reality Program (
United Shades of America with W. Kamau Bell
).  And 
Aziz Ansari
, Penguin Press author of
MODERN ROMANCE
, won the Emmy for Writing for a Comedy Series (
Master of None
).
June 26, 2017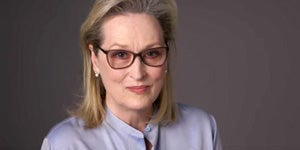 Since THE DIARY OF A YOUNG GIRL by Anne Frank was first published in 1947, the book has been a beloved and deeply admired monument to the indestructible nature of the human spirit, read by millions of people and translated into more than fifty-five languages. On the occasion of the 70th anniversary of the publication of this
expand
landmark diary, actress Meryl Streep taped a moving video message, sharing with viewers how Anne Frank's values have shaped her own, including holding on to hope when the world has entered dark times. Ms. Streep recorded this video at the New York offices of Penguin Random House, the publisher of the diary in the United States.  Our ongoing commitment to Ms. Frank's diary began when Doubleday published the first English translation in 1952.  In subsequent years, Bantam, Anchor and Doubleday again have also released updated and expanded paperback and hardcover editions of the book. A timeless story discovered by each new generation, THE DIARY OF A YOUNG GIRL stands without peer. For young readers and adults, the book continues to bring to life this young woman, who for a time survived the worst horrors the modern world had seen — and who remained triumphantly and heartbreakingly human throughout her ordeal.