#1 New York Times Bestselling Author Sue Monk Kidd to Publish New Novel with Viking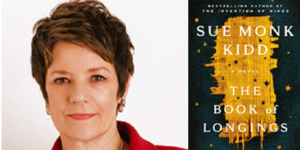 Viking has announced the publication date of April 28, 2020 for Sue Monk Kidd's next novel, THE BOOK OF LONGINGS. "I am Ana. I was the wife of Jesus." So begins the new novel from the #1 New York Times bestselling author of THE SECRET LIFE OF BEES and THE INVENTION OF WINGS, an extraordinary story set in the first century about a woman who finds her voice and her destiny in a time of great despair and great hope.
In her fourth work of fiction, Sue Monk Kidd brings her acclaimed narrative gifts to imagine the story of a young woman named Ana. Raised in a wealthy family in Sepphoris with ties to the ruler of Galilee, she is rebellious and ambitious, a relentless seeker with a brilliant, curious mind and a daring spirit. She yearns for a pursuit worthy of her life, but finds no outlet for her considerable talents. Defying the expectations placed on women, she engages in furtive scholarly pursuits and writes secret narratives about neglected and silenced women. When she meets the eighteen-year-old Jesus, each is drawn to and enriched by the other's spiritual and philosophical ideas. He becomes a floodgate for her intellect, but also the awakener of her heart.
Their marriage unfolds with love and conflict, humor and pathos in Nazareth, where Ana makes a home with Jesus, his brothers, James and Simon, and their mother, Mary. Here, Ana's pent-up longings intensify amid the turbulent resistance to the Roman occupation of Israel, partially led by her charismatic adopted brother, Judas. She is sustained by her indomitable aunt Yaltha, who is searching for her long-lost daughter, as well as by other women, including her friend Tabitha, who is sold into slavery after she was raped, and Phasaelis, the shrewd wife of Herod Antipas. Ana's impetuous streak occasionally invites danger. When one such foray forces her to flee Nazareth for her safety shortly before Jesus's public ministry begins, she makes her way with Yalta to Alexandria, where she eventually finds refuge and purpose in unexpected surroundings.
Grounded in meticulous historical research and written with a reverential approach to Jesus's life that focuses on his humanity, THE BOOK OF LONGINGS is an inspiring account of one woman's bold struggle to realize the passion and potential inside her, while living in a time, place, and culture devised to silence her.
Sue Monk Kidd said, "It was clear to me that I wanted to portray Jesus as fully human. Writing from a novelist's perspective and not a religious one, I was drawn to his humanity, which can often be overlooked. Ana wandered into my imagination and I couldn't ignore her. If Jesus actually did have a wife and history unfolded exactly the way it has, then she would be the most silenced woman in history and the woman most in need of a voice."
Her debut novel, THE SECRET LIFE OF BEES, spent more than one hundred weeks on the New York Times bestseller list, has sold more than six million copies in the United States, was turned into both an award-winning major motion picture and a musical, and has been translated into thirty-six languages. Her second novel, THE MERMAID CHAIR, was a #1 New York Times bestseller and was adapted into a television movie. Her third novel, THE INVENTION OF WINGS, an Oprah's Book Club 2.0 pick, was also a #1 New York Times bestseller. She is the author of several acclaimed memoirs, including THE DANCE OF THE DISSIDENT DAUGHTER, her ground-breaking work on religion and feminism, as well as the New York Times bestseller TRAVELING WITH POMEGRANETES, written with her daughter, Ann Kidd Taylor. She lives in North Carolina.
Posted: October 14, 2019