100 Book Covers by Our Creative Designers Dazzle at Exhibit in Italy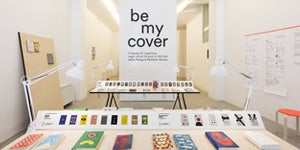 Contemporary book cover design is at the heart of Penguin Random House's tradition of enduring quality and innovation, and 100 engaging covers by a select group of our creative designers and art directors are presented in a special "Be My Cover" exhibit.  This visually dazzling show opened on May 18 and the turnout has been so strong it will continue through June 8 as an off-fair event in conjunction with the annual Salone del Libro of Turin, Italy's oldest and most established book fair.
The 100 covers on display were created over the past 10 years by gifted Penguin Random House colleagues on both sides of the Atlantic. For the first time, a mix of our talented US and UK designers are collectively celebrated in one place. The featured current and former Penguin Random House colleagues, representing several publishing groups and imprints, are:  from the US: Jason Booher, Christopher Brand, Paul Buckley, Pablo Delcán, John Gall, Elena Giavaldi, Janet Hansen, Chip Kidd, Emily Mahon, Peter Mendelsund, Oliver Munday, Robbin Schiff, Helen Yentus, Manuja Waldia, Rachel Willey; from the UK: Coralie Bickford-Smith, Suzanne Dean, David Pearson, and Jim Stoddart.
Penguin Random House's Fabrizio La Rocca, Creative Director, Corporate Design, and one of the Be My Cover organizers, said,  "We are proud of our long heritage of exceptional talent in cover design, which we share across regions.  Over the years, among the best creators of inspiring and innovative covers have worked among us and have reshaped the way we see and choose the books we read.  Every day arresting covers are designed at Penguin Random House.  Working on this exhibit only reinforced my feeling of how much we need to cherish this creativity as a foundational attribute of our company"
The exhibit was curated by Roberto Maria Clemente, principal of Bellisimo and the Beast, a design firm, and professor of Graphic Design History at IED (Torino) and NaBA (Milano), and was organized by Mr. Clemente and Fabrizio La Rocca.  Archicura/WNA, an architectural firm, set up the exhibit, which is being hosted by FFLAG, an independent multi-disciplinary 100 square meter space in the center of Turin.
Posted: May 24, 2017