Iconic Penguin Random House Book Covers on Display in Exhibition at Strand Book Store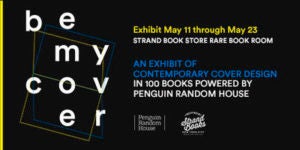 Penguin Random House, in partnership with Strand Book Store, is proud to present an exhibit of 100 notable book covers created by a select group of Penguin Random House creative designers and art directors in a special "Be My Cover" exhibit, May 11–23 in the Rare Book Room at Strand Book Store in New York City. Books on display range from classics such as MOBY-DICK by Herman Melville and WAR AND PEACE by Leo Tolstoy to contemporary titles such as THE STRANGE LIBRARY by Haruki Murakami and THE MOTHERS by Brit Bennett.
The exhibit is curated and organized by Roberto Maria Clemente, principal of FIONDA, a design firm, and professor of Graphic Design History NaBA (Milano) and Design professor at MADE (Siracusa), with Fabrizio La Rocca, SVP & Creative Director, Corporate Design, Penguin Random House. The exhibit will be held at Strand Book Store, one of NYC's and the nation's most celebrated and highly visited bookshops, whose rare book room is internationally recognized.
Acting within the cultural and visual communication of its time, a book cover design's quality contributes to the definition of our present-day society, besides being a practical instrument of commerce. In this way, the exhibit's visuals transcend geographic borders—from the United States to Sweden, from the U.K. to Italy—while presenting a variety of styles and trends of cover-visual design.
"We are proud of our exceptional talent in cover design, which we share across regions," explains La Rocca. "Over the years, among the best creators of inspiring and innovative covers have worked among us and have reshaped the way we see and choose the books we read. Every day arresting covers are designed at Penguin Random House. This creativity is a foundational attribute of our company."
"Strand is honored to host 'Be My Cover' and celebrate the fantastic works of designers that make bookselling and bookstores so special," says Leigh Altshuler, Communications Director for Strand Book Store. "They say 'never judge a book by its cover', however, we're excited to be doing just that this May."
To learn more about the books and designers featured in this exhibit, visit https://www.bemycover.com/.
Special Event: In Conversation with the Designers To celebrate the exhibit, Penguin Random House is pleased to present a conversation with acclaimed designers Peter Mendelsund, Jaya Miceli, Oliver Munday and Helen Yentus on May 14, from 7:00 to 8:00 p.m. The designers will discuss their design experience with the publishing company. The event—presented in partnership with Strand Book Store as part of New York City's annual celebration of design, NYCxDESIGN—will be moderated by curators La Rocca and Clemente. Admission information is listed on the Strand website.
For any questions about the exhibit, reach out to Phil Stamper-Halpin at pstamper@penguinrandomhouse.com.
Posted: May 11, 2018