The Making of a Gripping New Novel Set in North Korea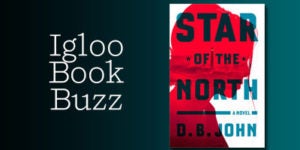 Our new Igloo Book Buzz selection, D.B. John's STAR OF THE NORTH, published by Crown on May 22, is particularly timely, as much of the highly-charged narrative unfolds in North Korea. Crown Senior Editor Nate Roberson offers these insights: "Describing STAR OF THE NORTH as a 'thriller' is accurate—it's one of the most exciting books I've read in years—but also incomplete, because this book is so much more than just an entertaining thrill ride.
"With unparalleled insight and empathy, D. B. John has pulled back the curtain on a fascinating world that even now remains opaque to so many Americans. As we watch a brilliant CIA agent fight to rescue a victim of the regime, we are also seeing the other side of that coin, the people of North Korea whose very survival hinges on overcoming an unfathomable degree of oppression and deprivation. As North Korea once again takes center stage in world events, I am grateful to have been so immersed in a work that moved me, kept me up all night turning pages, and ultimately totally transformed my understanding of North Korea."
D.B. John: "I had long wanted to make this closed, secretive country the setting for a thriller. The outline of a story began to take shape the week Kim Jong-il died in 2011. I watched the footage of those vast crowds grieving in Pyongyang, and behind the crying I saw fear. Everyone, even the children, knew what awaited those who shed too few tears. I visited the country four months later, in April 2012. The whole trip had an air of unreality about it, from the silence I stepped into as I left the plane—imagine a land with no traffic, no planes overhead, no bird song—to the daily rituals in the cult of Kim. My small tour group was obliged to demonstrate our respect by lining up and bowing before the Great Leader's statue. And wherever we went there was a statue.
"North Korea is a violent tyranny led by a single family. One mistake, one word out of line… and a person can be taken away in a truck at night, along with their children and parents, and not seen again. My challenge as a writer was to convey something that's hard for us, who take our freedoms and personal liberties for granted, to imagine: how life carries on under pervasive surveillance and extreme political control. This thriller stemmed partly from my curiosity about people who forever have to hide their thoughts and feelings. What are the private cares and aspirations of people living under the most oppressive regime the world has ever seen?"
To read the newly published Parade interview with D.B. John, click here.
To view D.B. John's fascinating visual diary of his research trip to North Korea for STAR OF THE NORTH, posted on EW.com, click here.
STAR OF THE NORTH has generated a wide range of advance praise. Here is a sampling:
"[a] multistranded espionage thriller…told with drama and flair." – Wall Street Journal
"A thrilling tale of abduction and escape in North Korea….highly entertaining." – The Washington Post
"An outstanding thriller . . . Those seeking a realistic, highly readable look at North Korea will be rewarded." —Publishers Weekly (starred review)
"Well-researched, fast-paced, and pertinent . . . a fantastic read." —Library Journal (starred review)
"A remarkable story about the most opaque country on Earth . . . STAR OF THE NORTH would be a superior thriller even if it was pure fiction." —Booklist (starred review)
"Extraordinary. Smart, sophisticated, suspenseful—and important. If you try one new thing this year, make it STAR OF THE NORTH." —Lee Child
Posted: May 23, 2018