Our #BannedBooksWeek Reading List #5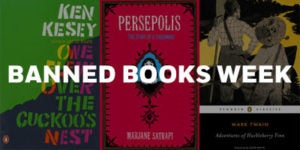 Throughout Banned Books Week, September 23 – 29, we will be highlighting frequently banned and challenged books to help raise awareness of how the right to freedom of expression and the protection against censorship are essential to the development of our society and cultures around the world. Keep reading for Banned Books reading list inspiration, and stay tuned all week for more recommendations.
ONE FLEW OVER THE CUCKOO'S NEST by Ken Kesey
Challenge Reasons: Pornographic, excessive violence
Boisterous, ribald, and ultimately shattering, One Flew Over the Cuckoo's Nest has left an indelible mark on the literature of our time. Turning conventional notions of sanity and insanity on their heads, the novel tells the unforgettable story of a mental ward and its inhabitants, the tyrannical Big Nurse Ratched and Randle Patrick McMurphy, the brawling, fun-loving new inmate who resolves to oppose her. We see the story through the eyes of Chief Bromden, the seemingly mute half-Indian patient who witnesses and understands McMurphy's heroic attempt to do battle with the powers that keep them all imprisoned.
Challenge Reasons: Gambling, offensive language, political view
Wise, funny, and heartbreaking, Persepolis is Marjane Satrapi's memoir of growing up in Iran during the Islamic Revolution. In powerful black-and-white comic strip images, Satrapi tells the story of her ife in Tehran from ages six to fourteen, years that saw the overthrow of the Shah's regime, the triumph of the Islamic Revolution, and the devastating effects of war with Iraq.
ADVENTURES OF HUCKLEBERRY FINN by Mark Twain
Challenge Reasons: Racism, insensitivity and offensive language
An incomparable adventure story, it is a vignette of a turbulent, yet hopeful epoch in American history, defining the experience of a nation in voices often satirical, but always authentic. The classic boyhood adventure tale is updated with a new introduction by noted Mark Twain scholar R. Kent Rasmussen and a foreword by Azar Nafisi, author of Reading Lolita in Tehran and The Republic of Imagination.
Posted: September 28, 2018