2 Good Mysteries and a Dud, from Ayisha, Resident Media Maven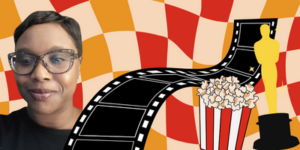 Nothing screams chilly, long February nights like streaming thrillers while all cozied up at home. The following streaming movies and television has been vouched for by Ayisha Clarke, Senior Manager, Digital Customer Operations, Penguin Random House.
Ayisha was the winner in the Media Maven category of 2022's PRH Community & Culture Awards, and we think it shows. Enjoy!
Glass Onion: A Knives Out Mystery (Netflix Movie) 
Plot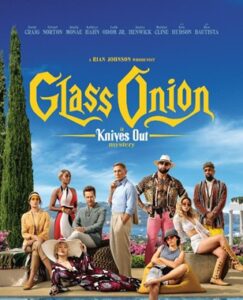 This is a standalone sequel to the 2019 film Knives Out, starring Daniel Craig as master detective Benoit Blanc. This time our quirky detective has taken on a case revolving around tech billionaire Miles Bron (Edward Norton) and a few of his closest friends played Janelle Monáe, Leslie Odom Jr., and Kate Hudson to name a few.  
Miles (think Elon Musk) has invited his friends to a murder mystery weekend on his private Greek island where he of course will be the victim. I mean because it's all about Miles. The so-called friends are either indebted to him, need something from him, or have been betrayed by him in the case of Andi (Janelle Monáe). Things go awry and people do die, but Benoit of course is on the case and puts all the pieces of the puzzle together.  
Thoughts… 
The writers have taken the Agatha Christie formula (A clever detective + a murder + a group of people with motives for murder + a gathering for the big reveal of the murderer) and brought it to a modern audience.  
It's a well-written story with great dialogue. The cinematography is beautiful. (I love Greece.) The characters are distinct and don't blur into one another as sometimes happens with large casts. I personally find Daniel Craigs Foghorn Leghorn accent kind of cute though others may beg to differ. Janelle Monáe is a standout as Andi amongst the star-studded cast. (I need her wardrobe from this film for my next vacation.) This film was really enjoyable and one to check out.   
Three Pines (Amazon Prime Season 1, 8 episodes) 
Plot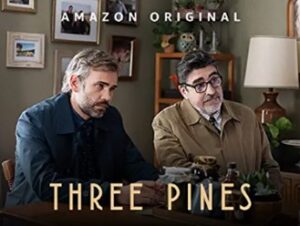 Based on author Louise Penny's bestselling novels, Three Pines features Chief Inspector Armand Gamache of the Sûreté du Québec (aka Québec Police). Brought to life by actor Alfred Molina, Gamache is charming, dedicated and smart. He sees all the little details that others seem to miss. He cares about the victims and is determined to bring forth some measure of justice. 
Thoughts… 
A seemingly peaceful place, Three Pines appears to have an inordinate number of deaths for a village this size, but then again, the residents are full of secrets. The kind that people will kill over. 
Within this mystery framework, the series does a notable job of including storylines that illustrate the mistreatment of First Nations people in Canada. I did a little research and found that they also hired Indigenous actors for key roles. 
I really enjoyed this series. The acting was top-notch. The mysteries were well laid out and the residents of Three Pines are a hoot. (A lady in the bathtub with her goose.) I also really appreciate the Indigenous history and culture that they've included. If you like police procedurals this series will definitely scratch that itch. 
The Invitation (Netflix Movie)  
Ayisha's Reject Corner – I watched it, so you don't have to.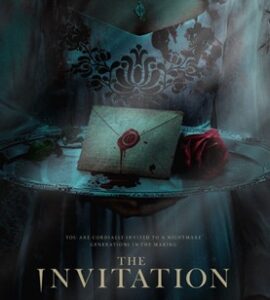 When you consume vast quantities of media, you will certainly run into sub-par properties. My most recent mistake was in choosing to watch The Invitation. It's 105 minutes of my life that I cannot get back.  
A young woman named Evie whose mother has recently passed away decides to do one of those at-home DNA tests. (Mistake #1) It turns out she has a long-lost British cousin. They meet, and he invites her to a family wedding. (Like they barely exchanged pleasantries.) Her funds are tight, and she cannot afford a trip to England, but her new cousin is happy to foot the bill. As the saying goes, "If it's free, it's for me." So, off she goes to merry ole England. (Mistake #2)  
There she meets Walter, the owner of the estate where the wedding will happen. He's rich and rather sexy and our girl is being charmed by a pro with lots of experience. Plied with gifts and eventually seduced (Mistake #3) she inadvertently accepts a marriage proposal from Walter. She thinks it's a joke, but Walt has every intention of putting a ring on it. 
We find out that he's an old vampire who has had a deal with three families for generations. Each family provides him with a wife, and this somehow keeps them rich and him young? (I don't get it.) 
 So rather than live off a diet of O negative for all eternity, our girl quite literally burns it all down and leaves Walter as nothing but a pile of ash.   
This movie was utterly predictable and felt like a Lifetime movie with a bigger-than-usual budget. The actors were good, but their talents were wasted here with a lackluster story that doesn't really make sense.  
The one redeeming thing from this movie is a song that played about a half-hour in. I heard a voice that reminded me of the late great Amy Winehouse. It was a singer that's new to me, Joy Crookes. Her song When You Were Mine is now part of my Spotify playlist. Joy Crookes – When You Were Mine (Official Video) – YouTube 
Posted: February 17, 2023