2019 Booker Co-Awarded to Atwood's THE TESTAMENTS and Evaristo's GIRL, WOMAN, OTHER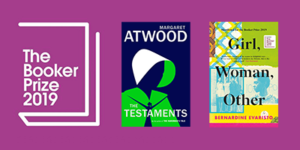 Great joy out of London: For the first time since 1992, the Booker Prize has been awarded jointly, and its 2019 winners are both Penguin Random House authors:
Margaret Atwood's THE TESTAMENTS and Bernardine Evaristo's GIRL, WOMAN, OTHER.
Margaret Atwood's novel was published last month by Nan A. Talese/Doubleday, Random House Audio in the U.S., McClelland & Stewart in Canada, and our UK sister imprint Chatto & Windus, and debuted at number one on each territory's national bestseller lists.
A six-time Booker nominee, Atwood won the Prize in 2000 for THE BLIND ASSASSIN. She becomes the second woman to win the Booker twice. Atwood's worldwide bestseller and opening story to The Testaments, The Handmaid's Tale, was shortlisted in 1986, as were her novels Cat's Eye (1989), Alias Grace (1996) and Oryx and Crake (2003).
"It is thrilling to see my dear friend and our longtime author Margaret Atwood deservedly receive her second Booker Prize for THE TESTAMENTS," says Nan Talese, President & Publisher, Nan A. Talese/Doubleday. "This remarkable sequel to THE HANDMAID'S TALE takes readers once again into the dystopian world of Gilead through the eyes of three new, brilliantly rendered female narrators, and the result is a page-turning story of resilience, courage, and hope. To have THE TESTAMENTS rewarded with this esteemed prize – thirty-five years after she first created the story of Offred – shows that Margaret remains at the height of her literary powers."
Jared Bland, Publisher, McClelland & Stewart, said: "The incredible global success of Margaret Atwood's latest novel, The Testaments, has reminded all of us anew of how beloved this Canadian icon is around the world. This extraordinary honour feels like an entirely fitting way to recognize such a remarkable and urgent work and a writer at the top of her game. We are thrilled for Margaret, and McClelland & Stewart is honoured to be her publisher."
GIRL, WOMAN, OTHER by Bernardine Evaristo, is published in the UK by our sister PRHUK Hamish Hamilton imprint. Her novel follows the lives and struggles of twelve very different people in Britain, predominantly female and black, aged 19 to 93. The Sunday Times praised it as "a triumphantly wide-ranging novel… big, bold, sexy book that cracks open a world that needs to be known."
The United Kingdom is the home country for the Booker (formerly Man Booker) Prize, one of the most prestigious annual awards for English-language fiction. It is open to writers of any nationality, writing in English, with the work published in the UK. Determined by the panel of judges, the winner (and the preceding long lists and short lists) is revealed at a formal, nationally televised dinner every mid-October.
Penguin Random House authors have fared quite well this decade in the Booker competition, with numerous semi-finalists and finalists, and winners: Richard Flanagan (THE NARROW ROAD TO THE DEEP NORTH, 2014), Marlon James (A BRIEF HISTORY OF SEVEN KILLINGS, 2015), and George Saunders (LINCOLN IN THE BARDO, 2017).
Our congratulations to Margaret Atwood, Bernardine Evaristo, and to each of our 2019 Booker semi-finalists and finalists, as well, of course, to the Penguin Random House publishing teams who support them so vigorously and creatively.
Posted: October 15, 2019