2020 NBA Ceremony Report, Complete PRH NBA Winners List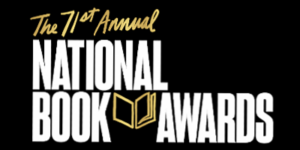 We were wearing sweatpants, rather than tuxedos. Watching from the couch or home work station, not seated with our colleagues and authors at elegant dinner tables. And eating home cooking or takeout, instead of Cipriani Wall Street's fine cuisine. This year's National Book Awards ceremony, which took place the evening of Wednesday, November 18, was like no other before it. Its goal, to announce its five-member judging panels' choices for 2020's "best" books in five literary categories, was met virtually, without the customary roomful of cheers and applause.
This year, Penguin Random House had much to cheer about, remotely, individually, and loudly. We are honored and proud that TOKYO UENO STATION by Yu Miri, translated by Morgan Giles, is the winner in the Translated Literature category, and INTERIOR CHINATOWN by Charles Yu, the choice for Fiction, are ours.
This is the seventh year in the past eight in which at least one Penguin Random House title has received a National Book Award, one of the nation's most respected, and competitive, literary prizes—and the fourth time in seven years, in three categories, Riverhead titles have won NBAs.
Translated Literature
TOKYO UENO STATION by Yu Miri. Translated, from the Japanese, by Morgan Giles (Riverhead Books HC & Ebook; Penguin Audio; Penguin Random House Canada distribution)
This is a first-time win for a Penguin Random House title in the young category Best Translated Literature.
TOKYO UENO STATION is the surreal and spectral story of a homeless ghost who haunts one of Tokyo's busiest train stations. The New York Times Book Review calls the novel "glorious," and O Magazine praises it as "spare and indelible."
Both our author and her translator, on separate screens, were jubilant and emotional about their recognition. Yu Miri acknowledged her novel was "a difficult work to translate." Morgan Giles, a first-time translator, thanked her "very much for letting me translate your beautiful work."
Fiction
INTERIOR CHINATOWN by Charles Yu (Pantheon Books HC & Ebook; RH Audio; Penguin Random House Canada distribution)
INTERIOR CHINATOWN is the sixth Fiction winner in the past eight years published by Penguin Random House, preceded by Sigrid Nunez's THE FRIEND in 2018.
From the infinitively inventive author of "How to Live Safely in a Science Fictional Universe," Charles Yu's INTERIOR CHINATOWN—one of Time Magazine's "100 Must Read Books of 2020"– is "one of the funniest books of the year…a delicious, ambitious satire" (New York Times Book Review).
Accepting his award, a stunned and emotional Charles Yu had "prepared nothing," but managed to thank a long list of Pantheon and Vintage colleagues "for making tonight possible." Thrilled to be in in the company of such eminent past NBA winners, Mr. Yu said he was "going to melt into a puddle right now."
While necessarily virtual, our full-throated congratulations go out to authors Charles Yu, and Yu Miri and Morgan Giles, their respective editors Tim O'Connell and Laura Perciasepe, and their publishing and audio teams, led by Reagan Arthur, Geoff Kloske, and Amanda D'Acierno. We applaud our four other 2020 NBA short-listed and 12 long-listed books, and our imprint colleagues who publish them.
In the ceremony's first half, Carolyn Reidy, the beloved President and CEO of Simon & Schuster, was posthumously honored with the Foundation's Literarian Award for Outstanding Service to the American Literary Community, which was movingly accepted by her husband of 45 years, Stephen. Novelist and essayist Walter Mosley, several of whose backlist titles are published by Vintage, received National Book Foundation's Medal for Distinguished Contribution to American Letters, presented by Edwidge Danticat, also a PRH author.
This year's event was the final one presided over by Executive Director Lisa Lucas, who has inspiringly guided the National Book Foundation these past five years. In January, she joins the Knopf Doubleday Group as publisher of its Pantheon and Schocken imprints. We can't wait to welcome and to work with her.
So, this was no "normal" National Book Award evening, to be sure. But whether we are dressed in t-shirts or formal wear it remains a night in which great books and the authors who write and the brilliant teams who publish them are resonantly celebrated for the difference they make in our world.
The complete list of Penguin Random House National Book Award winners, 2013-present:
Fiction:
2020: INTERIOR CHINATOWN by Charles Yu (Pantheon)
2016: THE UNDERGROUND RAILROAD by Colson Whitehead (Doubleday)
2015: FORTUNE SMILES: Stories by Adam Johnson (Random House)
2014: REDEPLOYMENT by Phil Klay (Penguin Press)
2013: THE GOOD LORD BIRD by James McBride (Riverhead)
Nonfiction:
2017: THE FUTURE IS HISTORY: How Totalitarianism Reclaimed Russia by Masha Gessen (Riverhead)
2015: BETWEEN THE WORLD AND ME by Ta-Nehisi Coates (Spiegel & Grau)
Poetry:
2015: VOYAGE OF THE SABLE VENUS by Robin Coste Lewis (Knopf)
Young People's Literature:
2014: BROWN GIRL DREAMING by Jacqueline Woodson (Nancy Paulsen Books)
Translated Literature:
2020: TOKYO UENO STATION by Yu Miri. Translated, from the Japanese, by Morgan Giles (Riverhead)
Posted: November 19, 2020