"2034" Novel by Ackerman and Stavridis Launched with WIRED Magazine Takeover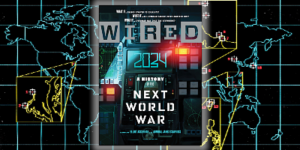 2034: A Novel of the Next World War by Elliot Ackerman and Admiral James Stavridis, to be published by Penguin Press on March 9, has been launched with a takeover of WIRED magazine, online and in the February print edition on newsstands now. The publication devoted its entire February issue to 2034, and is presenting a six-part serialization of the first part of the book online. Social media promotions include a campaign on Twitter, with coverage by CNN.
From two former military officers and award-winning authors comes a chillingly authentic, geopolitical thriller that imagines a naval clash between the US and China in the South China Sea in 2034–and the path from there to a nightmarish global conflagration.
Everything in 2034 is an imaginative extrapolation from present-day facts on the ground combined with the authors' years working at the highest and most classified levels of national security. Sometimes it takes a brilliant work of fiction to illuminate the most dire of warnings: 2034 is all too close at hand, and this cautionary tale presents the reader a dark yet possible future that we must do all we can to avoid.
Here is a selection of high praise for 2034:
"War with China is the most dangerous scenario facing us and the world. Absent a strategic method to manage our differences, Jim Stavridis and Elliot Ackerman's chilling novel presents a realistic series of miscalculations leading to the worst consequences. A sobering, cautionary tale for our time." —Jim Mattis, General, U.S. Marines (Ret.) and 26th Secretary of Defense
"A real page-turner, 2034 is a novel about a conflict we hope never happens. Drawing on their deep operational and diplomatic backgrounds, Admiral Stavridis and Elliot Ackerman have conjured a nightmare we desperately need to avoid. The novel is a cautionary tale for our times, and a reminder how quickly events can spin out of control—even before 2034." —Robert M. Gates, Secretary of Defense 2006-2011
"I could not stop reading 2034. With sharply drawn, vibrant characters caught in an all too plausible future conflict, the novel left me fascinated, moved, thrilled and, ultimately, haunted." —Phil Klay, author of Missionaries
Elliot Ackerman is the author of several novels including Dark at the Crossing, which was a finalist for the National Book Award, and most recently Waiting for Eden. His writings appear in Esquire, The New Yorker, The Atlantic, and The New York Times Magazine, among other publications, and his stories have been included in The Best American Short Stories and The Best American Travel Writing. He is both a former White House Fellow and Marine, and served five tours of duty in Iraq and Afghanistan, where he received the Silver Star, the Bronze Star for Valor, and the Purple Heart.
Admiral James Stavridis, USN (Ret.) spent more than thirty years in the U.S. Navy, rising to the rank of four-star Admiral. He was the Supreme Allied Commander at NATO and previously commanded U.S. Southern Command, overseeing military operations in Latin America. At sea, he commanded a Navy destroyer, a destroyer squadron, and an aircraft carrier battle group in combat. He holds a Ph.D. from The Fletcher School of Law and Diplomacy at Tufts University, where he recently served five years as dean. He has published nine previous books and hundreds of articles and is a frequent national and international television commentator. He is chairman of the Board of Counselors of McLarty Global Associates, an international consulting firm, and an operating executive of the Carlyle Group, an international private equity firm.
Posted: February 3, 2021