3.6 Million Watch TV Debut of MIDNIGHT, TEXAS Series, Based on Charlaine Harris' Novels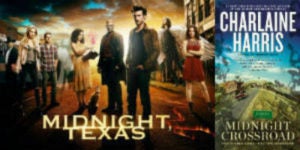 From Page to Screen:  this week NBC aired the premiere of Midnight, Texas, a new dramatic TV series based on Charlaine Harris' New York Times bestselling MIDNIGHT, TEXAS series of novels published by Ace.  The pilot drew in 3.6 million viewers and has received wonderful media attention, including features in TV Guide Magazine and People TV Watch.   
The series also received a huge promotional push at San Diego Comic-Con, including an interactive experience and a MIDNIGHT CROSSROAD book signing with Charlaine and the series cast.  NBC has signed Midnight, Texas on for ten episodes, with a new episode premiering on Monday, July 31.
This is the third of Harris' book series to be developed for television.  HBO had the phenomenal seven-season run of True Blood, based on the #1 New York Times bestselling Sookie Stackhouse novels, and Hallmark Movies & Mysteries is currently airing and filming movies based on her Aurora Teagarden mystery series.
Watch a video preview of the next episode of Midnight, Texas:
Posted: July 28, 2017