3 PRH '22 NBA Young People's Literature Semi-Finalists: Blum, Tahir, Yee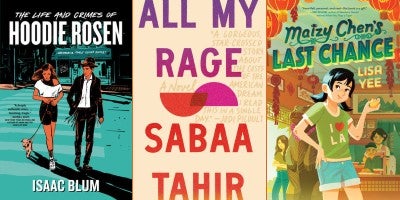 One of the most respected and appreciated signifiers from the National Book Foundation (NBF) is its bestowal of equal, prominent stature upon each of the five National Book Award categories it sponsors.
This annual  tradition happily continues for the 2022 prize season, as the judges' semi-finalist picks for Young People's Literature, Translated Literature, Poetry, Nonfiction, and Fiction, once again will be presented individually and consecutively the mornings and afternoons of September 14 and 15, and concluding the morning of the 16th.
Partnering with the New Yorker website, the NBF commenced this year's long listing on the 14th, with the ten Young People's Literature contenders— three of them published by Penguin Young Readers and Random House Children's imprints.
THE LIFE AND CRIMES OF HOODIE ROSEN by Isaac Blum, (Philomel Books/Penguin Young Readers hc and ebook; Listening Library)
ALL MY RAGE by Sabaa Tahir, (Razorbill/Penguin Young Readers hc and ebook; Listening Library)
MAIZY CHEN'S LAST CHANCE by Lisa Yee, (Random House Books for Young Readers hc and ebook; Yearling pb coming April 2023; Listening Library)
Hearty congratulations to our nominated authors and their publishers.
Igloo will consecutively report our NBA semi-finalists by category, as they are made public.
Next up: Translated Literature, September 14 afternoon.
The short lists for all five categories will be revealed together October 4, with the Manhattan winner Awards ceremony on November 16.
Posted: September 14, 2022