40 PRH NYTBR "100 Notable Books of 2018"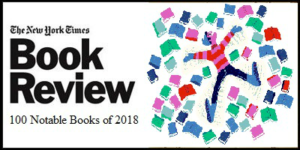 The "100 Notable Books of 2018" selected by the editors of the New York Times Book Review will include 40 titles published by our U.S. imprints: 19 Fiction & Poetry and 21 Nonfiction. Their complete list is now online, and will be published in the Sunday, December 3 edition.
Here are this year's Penguin Random House "Notable Books":
Fiction & Poetry:
BROWN: Poems by Kevin Young (Knopf) This new collection of verse by the poetry editor of The New Yorker (and director of the New York Public Library's Schomburg Center for Research in Black Culture) is political in the best, most visceral way — critical, angry, squinting hard at the culture — while remaining at the same time deeply and lovingly personal.
CHERRY by Nico Walker (Knopf) The incarcerated novelist's debut is a singular portrait of the opioid epidemic and the United States' failure to provide adequate support to veterans. It's full of slapstick comedy, despite gut-clenching depictions of dope sickness, the futility of war and PTSD.
THE FEMALE PERSUASION by Meg Wolitzer (Riverhead) Of all the political threads that permeate Wolitzer's 12th novel, the most interesting is the challenge of intergenerational feminism. But Wolitzer is an infinitely capable creator of human identities as real as the type on this page; people are her politics.
THE FRIEND by Sigrid Nunez (Riverhead) The narrator of Nunez's wry novel inherits a Great Dane after her friend and mentor, an aging author, commits suicide. The novel suggests that something larger than writerly passion has been lost in our culture, but itself serves as a tribute to the values it holds dear.
THE GREAT BELIEVERS by Rebecca Makkai (Viking) A novel that ricochets between Chicago in the mid-1980s, an era when AIDS was a death sentence, and present-day Paris, where the shadow of its contagion still looms over a mother in search of her errant daughter.
IMMIGRANT, MONTANA by Amitava Kumar (Knopf) Kumar's novel of a young Indian immigrant who recounts his loves lost and won as a college student in the early 1990s has the feeling of thinly veiled memoir. It's a deeply honest look at a budding intellectual's new experience of America, filled with both alienation and an aching desire to connect.
LAKE SUCCESS by Gary Shteyngart (Random House) Shteyngart's prismatic new road-trip novel stars a Wall Street finance bro, loaded down with job and family woes, who impulsively hops on a Greyhound bus headed west. We do not root for him, but we root for his comeuppance.
THE LARGESSE OF THE SEA MAIDEN: Stories by Denis Johnson (Random House) Johnson's long preoccupation with mortality culminates in a posthumous collection. "It's plain to you that at the time I wrote this, I'm not dead," one character says. "But maybe by the time you read it."
LAST STORIES by William Trevor (Viking) The great Irish writer, who died in 2016 at the age of 88, captured turning points in individual lives with powerful slyness. This seemingly quiet but ultimately volcanic collection is his final gift to us, and it is filled with plots sprung from human feeling.
MACBETH by Jo Nesbø. Translated by Don Bartlett (Hogarth) The Norwegian crime writer emphasizes the noir aspects of Shakespeare's tragedy by turning it into a fast-paced thriller about murder and corruption in 1970s Glasgow. The result has a sharp social edge as well as a timely political resonance.
MY YEAR OF REST AND RELAXATION by Ottessa Moshfegh (Penguin Press) In Moshfegh's darkly comic and profound novel, a troubled young woman evading grief decides to renew her spirit by spending the year sleeping. "I knew in my heart," she tells the reader, "that when I'd slept enough, I'd be O.K."
ONLY TO SLEEP: A Philip Marlowe Novel by Lawrence Osborne (Hogarth) A thriller that jolts Philip Marlowe, Raymond Chandler's iconic private investigator, out of his quiet Mexican retirement and back into the world of scams and seductions. Osborne, who worked as a reporter along the border in the early 1990s, knows Mexico well and he passes that knowledge along to Marlowe.
THE PERFECT NANNY by Leila Slimani. Translated by Sam Taylor (Penguin) Two children die at the hands of their nanny in this devastating novel, an unnerving cautionary tale that won France's prestigious Prix Goncourt and analyzes the intimate relationship between mothers and caregivers.
THE SPARSHOLT AFFAIR by Alan Hollinghurst (Knopf) For a man in the 1950s, gay sex was a scandal that led to a prison term. His son comes to maturity in a different era, one in which he can take a legal husband. Hollinghurst's novel traces the private and public twists of this process.
SPINNING SILVER by Naomi Novik (Del Rey) In her stunning new novel, rich in both ideas and people, Novik gives classic fairy tales — particularly "Rumpelstiltskin" — a fresh, wholly original twist, with the vastness of Tolkien and the empathy and joy in daily life of Le Guin.
THERE THERE by Tommy Orange (Knopf) Orange's devastatingly beautiful debut novel, about a group of characters converging on the San Francisco Bay Area for an event called the "Big Oakland Powwow," explores what it means to be an urban Native American.
WARLIGHT by Michael Ondaatje (Knopf) In his latest novel, the author of "The English Patient" tells the story of a London family fractured by Allied intelligence work. And the danger won't end when the fighting is over.
WASHINGTON BLACK by Esi Edugyan (Knopf) This eloquent novel, Edugyan's third, is a daring work of empathy and imagination, featuring a Barbados slave boy in the 1830s who flees barbaric cruelty in a hot-air balloon and embarks on a life of adventure that is wondrous, melancholy and strange.
THE WITCH ELM by Tana French (Viking) French has stepped away from her standout Dublin Murder Squad series to deliver a nervy, obsessive novel — equal parts crime thriller and psychological study — about an art gallery publicist and an unsolved murder in his family.
Nonfiction:
AMERICAN DIALOGUE: The Founders and Us by Joseph J. Ellis (Knopf) Ellis's subject is not only the founding era, but also our own, and the "ongoing conversation between past and present." The author of numerous books on the early United States, Ellis draws connections between our history and our current age with an authority that few other writers can muster.
AMERICAN PRISON: A Reporter's Undercover Journey Into the Business of Punishment by Shane Bauer (Penguin Press) For his latest book, Bauer, an investigative journalist, went undercover as a guard at a private prison in Louisiana. His alarming, riveting exposé portrays a multibillion-dollar industry plagued by violence, corruption, deprivation and incompetence.
BAD BLOOD: Secrets and Lies in a Silicon Valley Startup by JOHN CARREYROU (Knopf) Elizabeth Holmes and her startup, Theranos, perpetrated one of the biggest scams in the history of Silicon Valley, raising millions for a medical device that never really existed. Carreyrou's account reads like a thriller.
BOOM TOWN: The Fantastical Saga of Oklahoma City, Its Chaotic Founding, Its Apocalyptic Weather, Its Purloined Basketball Team, and the Dream of Becoming a World-Class Metropolis by Sam Anderson (Crown) A vivid, slightly surreal history of "the great minor city of America," starting 500 million years ago and continuing up through Timothy McVeigh, Kevin Durant and the Flaming Lips.
BROTHERS OF THE GUN: A Memoir of the Syrian War by Marwan Hisham and Molly Crabapple (One World) Hisham, a journalist from Raqqa, details his country's descent into endless bloodshed. Crabapple's abundant illustrations capture the chaos.
CHURCHILL: Walking With Destiny by Andrew Roberts (Viking) Churchill's extraordinary life was filled with triumph and disaster, adulation and contempt, and the task for any historian is to strike a proper balance. Roberts's expansive narrative includes all the necessary details about the man he calls an indispensable figure. This is the best single-volume biography yet written.
THE CODDLING OF THE AMERICAN MIND: How Good Intentions and Bad Ideas Are Setting Up a Generation for Failure by Greg Lukianoff and Jonathan Haidt (Penguin Press) Expanding on their influential Atlantic article, the authors trace the culture of "safetyism" on campus to a generation convinced of its own fragility, warning of potentially dire consequences for democracy.
CRASHED: How a Decade of Financial Crises Changed the World by Adam Tooze (Viking) The crash of 2008, Tooze argues, was caused in both Europe and America, and its impact, he says, has been more political than economic, leading to a continuing wave of nationalism, protectionism and populism throughout most of the West.
EDUCATED: A Memoir by Tara Westover (Random House) This harrowing memoir recounts the author's upbringing in a survivalist Idaho family cursed by ideological mania and outlandish physical trauma, as well as her ultimately successful quest to obtain the education denied her as a child.
ENLIGHTENMENT NOW: The Case for Reason, Science, Humanism, and Progress by Steven Pinker (Viking) Pinker continues his recent argument for being happy about the state of the world, despite the rise of authoritarian nationalism, with a rousing defense of the four big ideas named in his subtitle.
FEEL FREE: Essays by Zadie Smith (Penguin Press) Deftly roving from literature and philosophy to art, pop music and film, Smith's incisive new collection showcases her exuberance and range while making a cohesive argument for social and aesthetic freedom.
GANDHI: The Years That Changed the World, 1914-1948 by Ramachandra Guha (Knopf) This second volume of an important biography looks at both the public and private life of a major figure of the 20th century. Guha admires Gandhi's achievements, but does not gloss over the man's flaws.
GOD SAVE TEXAS: A Journey Into the Soul of the Lone Star State by Lawrence Wright (Knopf) This longtime resident of Texas examines the complexities, contradictions and sheer goofiness of his state, arguing that it heralds America's future.
HOW TO CHANGE YOUR MIND: What the New Science of Psychedelics Teaches Us About Consciousness, Dying, Addiction, Depression, and Transcendence by Michael Pollan (Penguin Press) Pollan writes about new research into psychedelics and how they can reduce trauma. He also describes, in sometimes remarkable ways, how he experienced his own trips.
PATRIOT NUMBER ONE: American Dreams in Chinatown by Lauren Hilgers (Crown) This deeply reported account tracks an immigrant couple's struggle to remake their lives in America while staying connected to their hometown in China.
THE POISON SQUAD: One Chemist's Single-Minded Crusade for Food Safety at the Turn of the Twentieth Century by Deborah Blum (Penguin Press) In the early 1900s, you could find "pepper" made from sawdust or "coffee" that featured tree bark and ground acorns. Food was regularly contaminated and adulterated. Blum writes about the understated head of the U.S.D.A., Harvey Washington Wiley, who did the most to help change this situation and persuaded Americans and lawmakers to think differently about food.
RISE AND KILL FIRST: The Secret History of Israel's Targeted Assassinations by Ronen Bergman (Random House) Bergman's fast-paced account of Israel's program to assassinate its enemies raises troubling moral and practical questions but also demonstrates that the tactic can be a highly effective tool against terrorist groups.
SHE HAS HER MOTHER'S LAUGH: The Powers, Perversions, and Potential of Heredity by Carl Zimmer (Dutton) Zimmer does a deep dive into the question of heredity, exploring everything from how genetic ancestry works to the thorny question of how race is defined, biologically. The book is Zimmer at his best: obliterating misconceptions about science in gentle prose.
THERE WILL BE NO MIRACLES HERE: A Memoir by Casey Gerald (Riverhead) Gerald's journey from his boyhood in a blighted Dallas neighborhood to his role as the cynosure of a room comprising no small number of the 1 percent is recounted here with great lyricism and emotion. His voice comes through, at turns exuberant, humorous, unsentimental, imaginative, keen, as he tells a deeply American story.
WHAT THE EYES DON'T SEE: A Story of Crisis, Resistance, and Hope in an American City by Mona Hanna-Attisha (One World) This memoir, by a pediatrician at a city hospital in Flint, Mich., who realized that her young patients were being poisoned by lead in the city's drinking water, recounts her struggle to expose the crisis to public view with compassion and indignation.
WINNERS TAKE ALL: The Elite Charade of Changing the World by Anand Giridharadas (Knopf) Giridharadas examines the worlds of Davos and Aspen, where an elite intent on "changing the world" hang out, emerging with a quietly scathing report on how little they actually do to make a difference when it comes to the big structural problems. They are instead the enablers of the rich and powerful.
Posted: November 20, 2018