50 Books | 50 Covers: Our Award-Winning Designs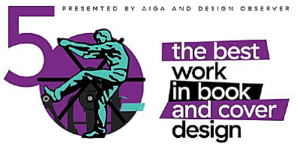 This year's AIGA Design 50 Books | 50 Covers competition, widely recognized as the highest design honor in the book publishing world, features five prize-winning designs created by Penguin Random House art directors and designers. Our award winners are highlighted below, along with a Spotlight Interview with Ten Speed Press Senior Director, Art/Design, Betsy Stromberg. Congratulations to our talented and creative colleagues, who crafted the look of these books published by Ten Speed Press, Clarkson Potter, and Pantheon.
ALPINE COOKING
Author/Editor: Meredith Erickson, Julie Bennett
Publisher: Ten Speed Press
Creative Director: Emma Campion
Book Designer: Betsy Stromberg
Jacket Designer: Betsy Stromberg
THE MEMORY POLICE
Author: Yoko Ogawa
Publisher: Pantheon Books
Jacket Designer: Tyler Comrie
WINE SIMPLE
Author/Editor: Aldo Sohm with Christine Muhlke/Jennifer Sit
Publisher: Clarkson Potter
Creative Director: Marysarah Quinn
Art Directors: Mia Johnson and Stephanie Huntwork
Book & Jacket Designer: Alaina Sullivan
Illustrator: Alaina Sullivan and Matt Blease
RUSTY BROWN
Author: Chris Ware; Editor: Chip Kidd
Publisher: Pantheon Books
Book, Jacket, Illustrations, Art and Design: Chris Ware
WRITE ON: My Story Journal
Author: Wee Society
Publisher: Clarkson Potter
Creative Directors: Rob Alexander, Jill Robertson
Art Director: Danielle Deschenes
Book & Jacket Designer: Rob Alexander
Spotlight Interview with Ten Speed Press Designer Betsy Stromberg
What does this AIGA Award acknowledgement mean to you?
As someone who has worked in publishing for almost twenty years I am proud to be among the selected winners in this book-specific design competition. It's very exciting to be acknowledged by the largest professional association of designers in the world, and for my cover to be recognized among the other winners and extremely talented designers in our field. I'm thankful that Ten Speed gave me the opportunity to work on this really special project, and that the book is getting so much well deserved attention.
What about the design of ALPINE COOKING are you most proud of?
Shaping all of the text and thousands of photographs into the beautiful (yet organized) book was quite a feat, and I love the design of ALPINE COOKING as a whole. Finding the right display typeface, as seen on the cover, drove the design and helped set the tone for the whole package (the spikey serifs always felt like mountains to me). The gorgeous food and location photography by Christina Holmes made it all sing, especially when we decided to showcase the Alps on the cover instead of food–a rare treat! It was also amazing to work with super talented creatives like author Meredith Erickson and illustrator Samuel Bucheli, together we created a special feature gatefold of maps, which is one of my favorite parts of the book.
Posted: May 29, 2020