7 Penguin Random House Titles Longlisted for 2018 FT/McKinsey Business Book of the Year Award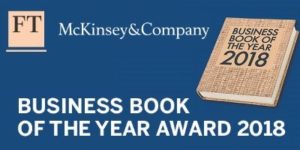 The prestigious FT (Financial Times)/McKinsey Business Book of the Year Awards, which annually recognizes the book published in the U.S. and UK that "provides the most compelling and enjoyable insight into modern business issues, including management, finance and economics," has announced its 2018 longlist of 15 titles.
Among the semi-finalists for the £30,000 prize are seven books published by Penguin Random House in the US:
Congratulations to our authors and colleagues.
A shortlist of six titles will be revealed on September 14. The 2018 prize will be awarded in a dinner ceremony in London on November 12.
Posted: August 13, 2018