A Farewell from Your 2019 Summer Interns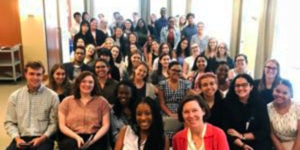 When my plane touched down in New York City two months ago, the only thing that calmed my beating heart was the reminder that I was on my way to the internship of a lifetime. Within 24 restive hours, I had my first flight, first cab ride, first subway ride, first real slice of NYC pizza, and first truly professional experience. With trepidation, I entered 1745 Broadway doe-eyed, revering the literary world and wanting desperately to break into it. I never expected such a warm reception from every person here at PRH and feel honored to have been privy to such a vast source of knowledge.
Our wonderful HR department thoughtfully organized many opportunities for us to gain a comprehensive understanding of Penguin Random House and the publishing world. Among these were weekly lunches where colleagues across each department took time out of their busy schedules to tell us of their duties and of the journey that led them to this destination. This gradually gave us a view of each cog that makes this machine of a publishing house run efficiently, helping us recognize the importance of our respective departments. These lunches concluded with a highly anticipated, insightful sit-down with our U.S. CEO Madeline McIntosh.
As a Corporate Communications intern, I not only got to see the accomplishments of these hard-working individuals through writing Igloo articles, but I also witnessed the amazing Social Responsibility efforts PRH is undertaking. The passion on display company-wide is sincerely inspiring, and whenever I pick up one of our books in the future, I will know that I am supporting a publishing house that is giving back.
We end our time here wiser and more confident, with a deep appreciation for the work that publishing entails. Thank you to everyone at Penguin Random House who gifted us with an unforgettable summer, invaluable experiences, and many, many, books! -Megan Rich
Read on for more first-hand accounts from a selection of your 2019 PRH summer interns!
Emily Mahar
Department: Viking/Penguin Art
What were some of your daily responsibilities? While my responsibilities often changed daily, I would almost always have edits to cover mechanicals to make, or create designs for versos (the back covers).
What is your favorite memory, project, or highlight? I've had the incredible opportunity to design a front cover during my time here! It's been such a great learning experience to work with the other designers and art directors to get feedback. The process is so iterative, I've designed nearly 40 cover variations for the same book! I've also enjoyed sitting in on the cover design meetings, where I get to see the interaction between design with the other departments, such as editorial, sales, and production.
What was the most challenging part? I would say the most challenging part is, when designing, receiving copy edits from editorial. Sometimes I'll have set the copy on the verso for a title, only to receive major changes the next week. The amount of copy is so related to the finalized design, reworking the existing designs to fit new copy can be a challenge (but a fun one!).
What is your biggest takeaway from this internship? Having always dreamed of creating book cover designs, I would say my biggest takeaway would be the actual experience of doing it at a company like PRH. There are so many other parts of the job besides designing that are integral to the process of getting a book made. I've learned so much about other departments, their interactions with the design team, in addition to being fully immersed in the design process.
What are your plans for the future? I am a senior, so I'll be heading back to school in the fall to complete my final year of college. But after graduation, I hope to get the opportunity to return to PRH. Returning to Viking/Penguin would be incredible, but I'd also love the opportunity to explore what it's like designing for other imprints, especially the Young Readers divisions!
Gabriel Etrata
Department: Finance
What were your first impressions of PRH? Did those impressions change? While growing up, I would always see one of our imprints on the spine of a book and didn't think too much of it. Working here has definitely changed that impression and I will never look at any book the same way. Learning about how different teams/functions are involved in the process of publishing a book has changed my view of this industry, and I'm glad to be a part of it.
What were some of your daily responsibilities? My responsibilities involve a number of tasks surrounding PRH's financial data. The team conducts numerous analyses of PRH's financial performance and does data-driven reporting for business decisions to be made at the executive level. In addition, we liaise with every other department regarding their respective finances and strategic planning.
What is your favorite memory, project, or highlight? The highlight of my internship was being part of the development for the finance team's PowerBI application. I was able to create reports and visualizations that streamlines our reporting and gives us key insights about our data.
What was the most challenging part? The most challenging part of this internship was leveraging my education (my background is in Mathematics) and applying those concepts and methods to solve real world problems. I find myself constantly using techniques from applied mathematics, computer science, and statistics in my work.
What is your biggest takeaway from this internship? Seeing my work make a difference in the company has given me the confidence to work harder and find ways to innovate. Also, knowing more about the publishing industry has changed my view on how people consume various media.
What are your plans for the future? Starting my career as a full-time, Junior Analyst here at PRH!
Hannah Bub
Department: DK Marketing, Publicity, Sales
What were your first impressions of PRH? Did those impressions change? My first impression of PRH was that it was super large. This impression changed slightly over time as I realized, it is not just large – it is GIGANTIC. I have really enjoyed learning about the different divisions and imprints. I love to see how each imprint has its own identity and contributes in a unique way to PRH as a whole.
What were some of your daily responsibilities? I was fortunate to be able to rotate through departments while at DK, so my daily responsibilities were always changing. Some tasks I did included creating mock-ups, advance copy mailings, working on a social media overhaul project, and preparing grids or slides for awards submissions and sales presentations.
What is your favorite memory, project, or highlight? My favorite project was working on a Twitter overhaul project. I'm looking forward to seeing changes roll out across DK's social media! I also really enjoyed sitting in on D&I meetings. I believe it is important to always consider how diversity and inclusion can be promoted through books.
What is your biggest takeaway from this internship? My biggest takeaway is that nothing is as scary as it seems. Because my internship was rotational, I would often move into a new department that I knew little or nothing about. At the start, I would be very nervous, but entering new environments is a great way to learn. This helped me build my confidence and realize that I am capable of learning and adapting, even when I feel inexperienced!
What is something you would like to say to future interns here? If you meet someone from a different department, or a department you are not interested in working in, you should still seek to learn about what they do! It is important to have a holistic knowledge of the industry to understand your department's role better. Besides, everyone you meet has something to teach you!
What are your plans for the future? I'm off to finish my last year at NYU! Afterwards, I hope to begin a career in publishing. In the meantime, however, I'm hoping to make a dent in my TBR list.
Dani Martinez
Department: Editorial, Schwartz & Wade Books
What were your first impressions of PRH? Did those impressions change? Before my first day at PRH, I assumed it would be an extremely corporate environment, since PRH is the biggest publishing house in the industry. I didn't realize that the environment absolutely depended on the imprint for which you were working. My imprint, Schwartz & Wade, was smaller and way more welcoming than I could have possibly imagined. I was surprised to find myself with many important responsibilities and extremely respected by my colleagues, who believed I would be able to carry out those responsibilities.
What were some of your daily responsibilities? One of my main daily responsibilities was reading slush (unsolicited manuscripts). Since we are a children's book imprint, I absolutely loved reading these manuscripts because they were always so endearing and refreshing. If I liked a manuscript, I would be required to write a reader's report on it, including a synopsis and anything I particularly loved about the story or suggestions to change it. Another part of my day-to-day responsibilities was to send back original artwork to illustrators when we didn't need it in our office anymore. This gave me a chance to see some of the beautiful art that is created for our books and communicate with some of the amazing and talented people who created that art. Additionally, my main responsibilities included helping the rest of the team at Schwartz & Wade with any small administrative projects they needed to be done, such as filing contracts, sending out reviews to authors and illustrators, compiling starred reviews, ordering books for the office, and organizing imprint information.
What is your favorite memory, project, or highlight? My favorite memories were the times I was given the chance to help the editors with a sketch review. They would hand me the dummy for one of our soon-to-be-published books and I would take notes to suggest solutions to problems or confusions that came with the illustrations or story-line. After, we would have a meeting to discuss all of our suggestions and come to an agreement.
What is your biggest takeaway from this internship? People in publishing (or at least the people I met during my ten weeks here) are so supportive and kind.
What are your plans for the future? As I'm going into my Junior year at Kenyon College, I'm beginning to prepare for my spring semester abroad in Buenos Aires, where I will be studying Argentine literature and most likely having the time of my life!
Emily Lau
Department: Ebooks
What were your first impressions of PRH? Did those impressions change? Everyone was really nice and it's clear that employees here are dedicated to and enthusiastic about their work. I still hold those impressions. I was surprised to learn and see how much teamwork and communication is involved, especially in a smaller team like the Ebooks Tech team. There's a lot of meetings, which I didn't expect, although I should have, given that we are a tech team working on projects and tools that involve specific details that everyone should know and understand.
What were some of your daily responsibilities? A lot of script testing of tools for ebook production and internal development tools. I also worked on creating several tools that will be used by the entire Ebooks team, which is really cool! Every day, I spent time having conversations with the rest of the Ebooks Tech team in our daily check-in meetings and whenever I had questions about ebook production. I commented code and helped to create and improve documentation for our tools.
What is your favorite memory, project, or highlight? I liked planning, coding, testing, and documenting a tool that I worked on for several weeks. Going through that whole process to get my tool into beta testing was so interesting and my first dive into code development in a team setting. For another tool that I wrote, I had a nice conversation with someone who had requested the tool and was excited that I was working on developing it. Her enthusiasm reminded me that my work really does make an impact. Another highlight of my time here was the whole Ebooks team meeting in July. I heard about what everyone's been doing, updates to ebook production and specification, and how the team aimed to address issues and changes. There was also a fun active-listening presentation and "activity" where we practiced active-listening with a partner. My partner was my manager, Naomi. I listened as she talked about her educational background and how her extracurriculars in college influenced her career path. It was enlightening and reassuring to hear that what you study in college does not necessarily define the career you go into.
What is your biggest takeaway from this internship? I think my role on the Tech team in the Ebooks department of Penguin Random House, a large publishing company, combines two passions of mine: programming and books. I'm really happy that my internship allowed me to be in an environment that's collaborative and creative, and I learned so much about ebooks. I improved my Python programming skills, and learned about Applescript, which I think will be useful for my personal projects. I also learned about development in a tech team, and what it's like to work in tech in a publishing company.
What are your plans for the future? I will be putting the skills I've gained from this internship to my personal projects, coursework, and extracurriculars. I've learned not only about ebook development, but also important skills in collaboration. From my internship, I've also become interested in pursuing a career in the publishing field, and will be actively looking for opportunities that combine my skills and passions!
What we would like to tell future interns:
"You must learn as you go and ask so many questions that it seems like you're asking too many questions."
"Enjoy your time here, soak it all in, because it goes by in a blink of an eye."
"Everyone you meet has something to teach you."
"Take advantage of every networking opportunity and strive to learn something new every day."
"This internship will change your life."
Posted: August 8, 2019