A Farewell To Smashing Ideas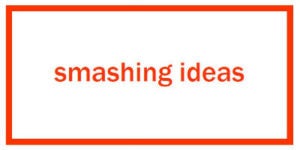 We are bidding farewell to everyone at Seattle-based Smashing Ideas, Inc., the tremendously creative design and innovation agency, which has been part of our company since 2011. As you'll read in their purchaser's press release, Smashing has been acquired by Luxoft Holding, Inc., a global IT service provider, in a transaction announced the afternoon of June 18. We wish our now-former colleagues as collegial and productive a working relationship with Luxoft as the one we long have enjoyed with them.
Luxoft Acquires US-based Digital Innovation Agency, Smashing Ideas
Zug, SWITZERLAND — June 18, 2018 — Luxoft Holding, Inc (NYSE:LXFT), a global IT service provider, today announced the acquisition of Smashing Ideas, a Seattle-based design and innovation agency.
Smashing Ideas consults across the product design and development lifecycle, with a focus on accelerating innovation at every stage for their Global 500 clients. Their approach and depth of experience in strategy, design, development, and program management fosters collaboration and enables them to bring new products, services, and businesses to market, faster.
Luxoft purchased Smashing Ideas from Penguin Random House, the world's largest trade-book publisher, which has owned the company since 2011.
This acquisition bolsters Luxoft's digital research, strategy, and design capabilities, and illustrates its ongoing commitment to provide valuable expertise to its global clients. It comes at a pivotal time in the industry, when ongoing collaboration among technology, design, and strategy is critical to delivering products as companies look to enhance their user experience, improve their results and ensure market share gains.
The acquisition expands the range of services both companies can provide, creating a unique market position that accelerates clients through all phases of their lifecycle. The increased depth of capabilities is intended to positively impact each of Luxoft's lines of business: Digital Enterprise, Financial Services and Automotive, with Smashing Ideas supporting Luxoft's horizontal digital transformation practice, Luxoft Digital.
"Our commitment to helping revolutionize the technology offerings of our clients is more evident than ever with our acquisition of Smashing Ideas," said Dmitry Loschinin, CEO and President of Luxoft. "Luxoft prides itself on being a value-added provider that is focused on technical strategy and implementation. This move further extends our capabilities into design and business strategy, allowing us to provide even more value to our strategic client partners."
Smashing Ideas CEO, Brian Burke, added, "By joining Luxoft, we are well-positioned to advance our clients' most ambitious initiatives across the innovation lifecycle. Luxoft's worldwide presence enables us to collaborate across time zones to service global clients via a multitude of delivery centers. This allows us to bring products to market faster, while Luxoft's deep technical expertise in blockchain, IoT, and machine learning amplifies the enterprise scale we can provide. Together, we look forward to being a true innovation partner to our clients' organizations."
"Penguin Random House and Smashing Ideas have enjoyed a long and productive working relationship. While we have continued to work together on several exciting digital product experiences, we believe that moving forward, Smashing Ideas, and its exceptionally talented strategists, designers, developers and program managers, will be best served by an owner that can contribute more synergies and added value for shared clients. We believe Smashing Ideas and Luxoft are a perfect fit, and we wish them enormous success together," said Nina von Moltke, President, Director of Strategic Development, Penguin Random House U.S..
GP Bullhound acted as the exclusive financial advisor to Penguin Random House and Smashing Ideas on this transaction.
About Luxoft: Luxoft (NYSE:LXFT) is a global IT service provider of innovative technology solutions that delivers measurable business outcomes to multinational companies. Its offerings encompass strategic consulting, custom software development services, and digital solution engineering. Luxoft enables companies to compete by leveraging its multi-industry expertise in the financial services, automotive, communications, and healthcare & life sciences sectors. Its managed delivery model is underpinned by a highly-educated workforce, allowing the Company to continuously innovate upwards on the technology stack to meet evolving digital challenges. Luxoft has more than 12,900 staff across 42 cities in 21 countries within five continents, with its operating headquarters office in Zug, Switzerland. For more information, please visit www.luxoft.com.
About Smashing Ideas: Founded in 1996 and headquartered in Seattle, WA, Smashing Ideas is a design and innovation agency with deep expertise in creating highly engaging digital experiences. They partner with the Global 500 to create connected smart products, apps, websites, and content management systems that make a positive impact on user engagement and their clients' bottom line. From business strategy and service design to UX, visual design, and development, their trademarked process, Motivational UX™, accelerates digital transformation and increases user engagement. Their unique service offerings, which include lean strategy, digital product and service design, product realization, managed services, and data science and analytics, has resulted in 60+ awards and a Fortune 500 client list spanning manufacturing, mobility, health, entertainment, and retail.
Forward-Looking Statements: This news release of Luxoft Holding, Inc ("Luxoft") contains "forward-looking statements" within the meaning of the Private Securities Litigation Reform Act of 1995, Section 27A of the Securities Act of 1933, and Section 21E of the Securities Exchange Act of 1934. These forward-looking statements include information about possible or assumed future results of our business and financial condition, as well as the results of operations, liquidity, plans and objectives. In some cases, you can identify forward-looking statements by terminology such as "believe," "may," "estimate," "continue," "anticipate," "intend," "should," "plan," "expect," "predict," "potential," or the negative of these terms or other similar expressions. These statements are subject to, without limitation, the risk factors discussed under the heading "Risk Factors" in Luxoft's Annual Report on Form 20-F and other documents filed with or furnished to the Securities and Exchange Commission by Luxoft. Except as required by law, Luxoft undertakes no obligation to publicly update any forward-looking statements for any reason after the date of this news release whether as a result of new information, future events or otherwise.
Investor Inquiries
Tracy Krumme
Vice President, Investor Relations
212.964.9900 x246
IR@luxoft.com
Media Inquiries
Robert Maccabe
Director, Public Relations
t: +44 (0)20 3828 2346; m:+44 7950 517 836
Press@luxoft.com
Twitter: @Luxoft
Brittany Carlstrom
Associate Marketing Director
t: 1.206.378.0100 ext. 143
PR@smashingideas.com
Twitter: @smashingideas
Posted: June 18, 2018