A First Look at The All Ways Black Cypher 2022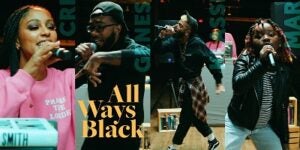 To celebrate the evolution of Penguin Random House platform All Ways Black, the Consumer Marketing team is thrilled to drop The All Ways Black Cypher 2022!
The music video, which was produced by @allwaysblack curator Cree Myles and videographer Cody LaPlant (who also directed last summer's launch video), expands on the subjects and themes explored on the platform and offers a deeper look at the impact that books have on people's lives.
This release marks the expansion of All Ways Black from Instagram channel to brand campaign. As with last year's #AmplifyBlackStories, #AllWaysBlack will celebrate Black history, Black authors, and Black stories all year long.
Check back on Monday for more on #AllWaysBlack.
Posted: January 28, 2022