A Reading, Talk and Q&A with Chris Bohjalian via Facebook (4/22)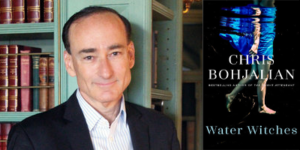 Chris Bohjalian will give a talk about and read from his latest novel, THE RED LOTUS (Doubleday), then answer questions live on the Tall Poppy Writers' Facebook Group (Note: this is a private group, to must request to join in advance.) on Wednesday, April 22, at 4:00pm (ET).
THE RED LOTUS is a twisting story of love and deceit: an American man vanishes on a rural road in Vietnam, and his girlfriend, an emergency room doctor trained to ask questions, follows a path that leads her home to the very hospital where they met. This global thriller concerns those who dedicate their lives to saving people, and those who peddle death to the highest bidder.
Bohjalian the #1 New York Times bestselling author of twenty-one books, including The Red Lotus, Midwives, and The Flight Attendant, which will be an HBO Max limited series later this year starring Kaley Cuoco. His other books include The Guest Room; Close Your Eyes, Hold Hands; The Sandcastle Girls; Skeletons at the Feast; and The Double Bind. His work has been translated into more than thirty-five languages.
!!A reminder for PRH employees: If you are posting this article to a personal or other non-PRH account you must include the hashtag #TeamPRH.!!
Posted: April 21, 2020