A Very Visual Year – 2018 Highlights from PRH Digital Video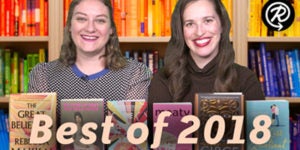 "This was another banner year for our video team," says Richard Wylde, Promotions Manager, Penguin Random House Digital Video. "The final numbers are still coming in, but in the past twelve months we've worked with more than 400 authors, made over 900 videos, and generated over 6 million views. We worked with divisions and verticals across the company to produce, shoot, edit, distribute, promote, and stream videos, and our studio has been revamped to produce podcasts and virtual media tours. This is just a taste of some of the things we've been up—from ads to book trailers to ongoing series to fun social content. More to come next year!"
DIY Frankenstein-Inspired Makeup Tutorial
Inspired by THE DARK DESCENT OF ELIZABETH FRANKENSTEIN by bestselling author Kiersten White, this DIY tutorial will teach you how to apply epic makeup this Halloween (or, for an upcoming festival or con!)
Best Books of 2018 | Six Picks
Read It Forward editors Abbe and Emma give their picks for the six best books of 2018. Unsurprisingly, another great year for books. (See the rest of our Six Picks series here)
What I'm Reading: Markus Zusak, Author of BRIDGE OF CLAY
Author Markus Zusak shares three books he's enjoyed recently. (See the rest of our "What I'm Reading" series here)
Book Trailer: Francisco Cantú on the US/Mexico Border and THE LINE BECOMES A RIVER
Francisco Cantú's searing memoir, THE LINE BECOMES A RIVER, depicts the cruelties the border creates, for Americans and Mexicans on both sides of the line. In his frank, compassionate, and knowledgeable talks, Cantú addresses the terror and tragedy of the migrants who risk and lose their lives attempting to cross the border. A master storyteller, he gives human faces to the nameless multitudes, and refutes the incendiary policy and rhetoric aimed at them.
Book Teaser: Silly Giraffe Faces Real Life Problems | GIRAFFE PROBLEMS
You think you have problems? Meet Cyrus the giraffe. He has a long neck. A very, very long neck. And he doesn't love it. Until he meets a turtle, who's quite envious of Cyrus. Discover this hilarious new collaboration from Jory John and Lane Smith, creators of PENGUIN PROBLEMS and now GIRAFFE PROBLEMS.
THE GROUNDHOG'S REVENGE by Gary Shteyngart | 7 Sentence Stories
Author Gary Shteyngart (LAKE SUCCESS) narrates an original story told in only seven sentences. (See the rest of our "7 Sentence Stories" series here)
 Lee Child Announces a (Fake) Jack Reacher Mashup Series
Lee Child presents a new Jack Reacher mashup book series … it's Reacher in classic literature, as you've never seen him before!
Posted: December 20, 2018