A Virtual Conversation with David Nasaw About THE LAST MILLION via Crowdcast (9/17)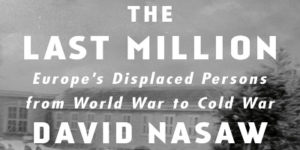 David Nasaw will discuss his new book, THE LAST MILLION (Penguin Press) with Peter Beinart, Professor of Journalism and Political Science at the Craig Newmark Graduate School of Journalism at the City University of New York at a virtual event hosted by CUNY's Leon Levy Center for Biography via Crowdcast on Thursday, September 17 at 6:00 pm (ET).
THE LAST MILLION tells the gripping yet until now largely hidden story of Post-World War II displacement and statelessness. By 1952, the Last Million were scattered around the world. As they crossed from their broken past into an unknowable future, they carried with them their wounds, their fears, their hope, and their secrets. Here for the first time, Nasaw illuminates their incredible history and, with profound contemporary resonance, shows us that it is our history as well.
Nasaw is the author of The Patriarch, selected by the New York Times as one of the 10 Best Books of the Year and a 2013 Pulitzer Prize Finalist in Biography; Andrew Carnegie, a New York Times Notable Book of the Year, the recipient of the New-York Historical Society's American History Book Prize, and a 2007 Pulitzer Prize Finalist in Biography; and The Chief, which was awarded the Bancroft Prize for History and the J. Anthony Lukas Book Prize for Nonfiction. He is a past president of the Society of American Historians, and until 2019 he served as the Arthur M. Schlesinger, Jr. Professor of History at the CUNY Graduate Center.
!! As a reminder, if you are posting to a personal or other non-PRH account you must include the hashtag #TeamPRH !!
Posted: September 15, 2020