A Virtual Meet and Greet with Tracy Tutor via Fundo.com (8/5)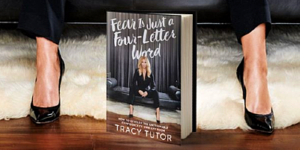 Tracy Tutor, author of FEAR IS JUST A FOUR-LETTER WORD: How to Develop the Unstoppable Confidence to Own Any Room (Portfolio), will present a virtual meet and greet via Fundo.com on Wednesday, August 5 at 8:00 pm (ET).
From the first female real estate broker on Million Dollar Listing LA, FEAR IS JUST A FOUR-LETTER WORD is a no-nonsense guide to analyzing big egos, deflecting power plays, and taking control of any room.
Behind Tracy Tutor's on-screen persona is an uncanny knack for projecting confidence in the most intimidating of circumstances. The breezy, tough-talking, utterly inimitable businesswoman has rivaled her male co-stars to land increasingly high-profile deals in the world of LA real estate. Now, Tracy is leveraging her years of experience to write the go-to manual for any woman struggling to convince people she's in charge.
Through candid, hilarious stories of her rise through a world of misogyny and cutthroat business dealings, Tracy offers a crash course in the psychology of power dynamics and social signaling.
Tracy Tutor is a top real estate agent at Douglas Elliman Beverly Hills, consulting with some of the world's top architects and developers. She is the first and only female cast member on Bravo's Million Dollar Listing LA, now in its twelfth season.
!! As a reminder, if you are posting to a personal or other non-PRH account you must include the hashtag #TeamPRH !!
Posted: August 4, 2020