A WOW PRH Evening: Our 3 2022 NBA Winners Tahir, Schweblin/McDowell, Gunty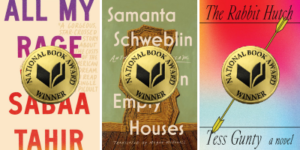 ALL MY RAGE by Sabaa Tahir, SEVEN EMPTY HOUSES by Samanta Schweblin, translated from the Spanish by Megan McDowell, and THE RABBIT HUTCH by Tess Gunty, newly join the shining, long list of Penguin Random House and its predecessor publishers' National Book Award winners, having been selected by the 2022 five-member judging panels for the Young People's Literature, Translated Literature, and Fiction categories, respectively.
A raw, chilly Manhattan night was no match for the warmth and excitement inside Wall Street's Cipriani restaurant, where the ceremony for the National Book Awards, one of America's most prestigious and encompassing literary competitions, returned to its COVID-waylaid long-time home before a black-tie full house, and many more live-streaming remotely. Our ten finalists were in attendance, with their editors and publishers, and with Markus Dohle, to witness the culmination of an extensive selection process that began with the mid-September announcement of categories' ten longlisters, and the early October short lists of five. For the first time in several years, we contended in all five categories, with the judges choosing one of our entries in three of them.
Our Winners:
Young People's Literature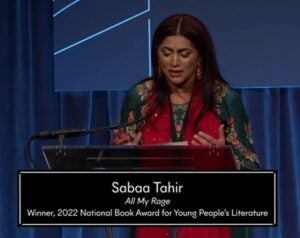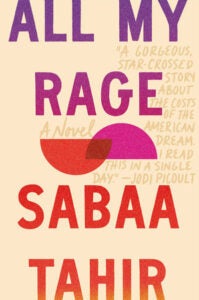 ALL MY RAGE by Sabaa Tahir, (Razorbill/Penguin Young Readers hc and ebook; Listening Library)
Fifteen years in the making, published in March 2022, edited by Ruta Rimas for the Razorbill imprint of Penguin Young Readers, ALL MY RAGE received eight starred pre-publication reviews, praising a "deeply moving, inter-generations story" (Kirkus), that "unpacks both the beautiful and the brutal" (School Library Journal), and "will likely make you cry, but definitely make you smile too" (BookPage). It is a sweeping novel that crosses generations and continents and addresses themes of cultural identity, family, forgiveness, love, and loss.
Nearly overcome with emotion at the podium, Sabaa Tahir proudly announced she was the first Muslim and Pakistani to win the NBA in this category—and dedicated it to those who must have "the right to live to tell their stories without fear." Her moving, deeply personal remarks included her gratitude to "everyone at Penguin Young Readers, School and Library, and Marketing and Sales." Also to her team and leadership at Razorbill and PYR, in particular, her "wonderful editor and greatest advocate, Ruta Rimas."
Translated Literature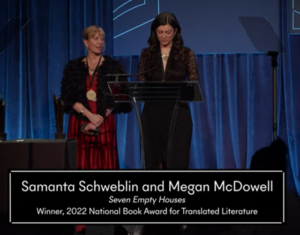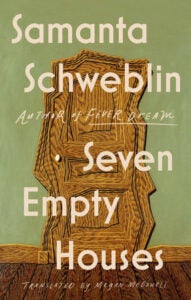 SEVEN EMPTY HOUSES by Samanta Schweblin, Translated from the Spanish by Megan McDowell, (Riverhead hc and ebook; Penguin Audio)
This international prize-winning story collection by Samanta Schweblin presents tense, visionary tales in which something always creeps back in. "Unrelenting and surreal. This is Schweblin at her sharpest and most ferocious" (Time). Schweblin's Riverhead editor, Laura Perciasepe, edited the 2020 NBA Translated Literature winner TOKYO UENO STATION by Yu Miri, translated by Morgan Giles.
This award is presented to both author and translator. Noting that "words can be a gift and a privilege," Samanta Schweblin thanked her publisher and "my marvelous, amazing translator." Megan McDowell expressed how grateful she was "to Samanta for trusting me, and to her editor Laura Perciasepe, and to her Riverhead team."
Fiction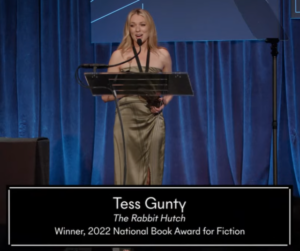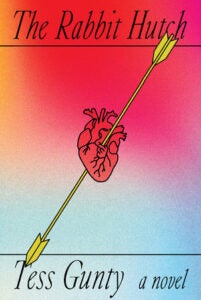 THE RABBIT HUTCH by Tess Gunty, (Knopf hc and ebook; Random House Audio)
THE RABBIT HUTCH, published in hardcover and e-book by Knopf, and to be a Vintage trade paperback in June, is the author's debut novel, edited by John Freeman. In a review for the New York Times, Leah Greenblatt called it "mesmerizing…One of the pleasures of the narrative is the way it luxuriates language, all the rhythms and religions and sensual whorls of meaning to be extracted from the dull casings of everyday life."
Tess Gunty said she never expected to win, so she hadn't prepared acceptance remarks. She was effusive in her respect for the works of her fellow and sister shortlisters, thanked her editor, John Freeman and "everyone at Knopf," and concluded by thanking the audience "for everything you've done for books out in the world…Kindness wins. That's the point of this evening."
Several more of our authors were prominent participants in the ceremony, which was staged with graceful enthusiasm by the Ruth Dickey-led National Book Foundation team.
Padma Lakshmi, who has been published by Crown, Clarkson Potter, Penguin Young Readers, and soon Knopf, hosted the evening with smiling elegance, assurance, and an effusive love for books, and for reading them. The Literarian Award for Outstanding Service to the American Literary Community was stirringly presented to the ALA's Tracie D. Hall by One World's and Kokila's Dr. Ibram X. Kendi.
Pantheon author Art Spiegelman received the Medal for Distinguished Contribution to American Letters.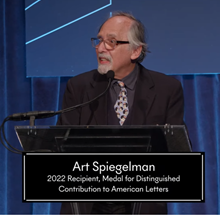 Introduced by Neil Gaiman, here in his capacity of "Art Spiegelman, my friend," observing, "Art makes art…He is a mensch, but he is a genius." In his bemused, self-effacing remarks, Mr. Spiegelman, the first comics creator so honored, noted, "Nothing like a life achievement award to make me feel my lifetime is over." Regarding it, he asked rhetorically about it being rebranded, "acknowledging pictures." He is the author of the frequently school- and library-banned MAUS, the story of a Jewish mouse, haunted by Nazi cats, who is a Holocaust survivor. It really is a story about my parents, he said, late adding, "Everyone just wanted a kinder, gentler Holocaust to teach." Before stepping away to his second standing ovation, our author thanked his "agency" and Pantheon, "who always had my back."
As ever, this latest NBA evening was about authors. Our community's and ours. One last congratulations to our Penguin Random House winners Sabaa Tahir, Samanta Schweblin/Megan McDowell, and  Tess Gunty, our Finalists and Semi-Finalists, their imprint and divisional colleagues, also to the latter authors from PRHPS clients Beacon Press, Astra Publishing House, and Archipelago. They personify the quality and diversity of our publishing programs—as do the skills and heart of our publishing teams, dedicated passionately to bring our writers' and illustrators' work to the widest ongoing readership.
Thank you.
It is great to have the National Book Awards back among us, where it belongs.
Posted: November 17, 2022