Aaron Wehner Delves Into TSP's Dungeons & Dragons Publishing Program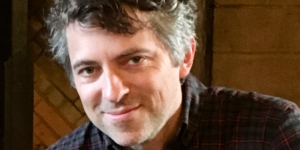 Ten Speed Press Publisher Aaron Wehner takes us behind the scenes of the imprint's Dungeons & Dragons publishing program that includes a wide range of illustrated D&D books for all ages. He shares the origins, looks at the unique editorial/design/production process, and how the ongoing evolution of the cultural phenomenon of this popular role-playing game will influence future releases. Wehner also reveals his personal passion for D&D and his favorite campaign/adventure.
How did Ten Speed's publishing relationship with D&D/Wizards of the Coast begin?
When Ten Speed first launched our graphic novel program five years ago, we approached Wizards of the Coast (which owns Dungeons & Dragons) to see if they would be interested in partnering on a graphic history of the game. In my conversation with the licensing team at D&D, they mentioned they had just been pitched a large-format, art-driven history written by a well-credentialed author team from out of house. D&D wanted to see the project published, but it fell outside of the scope of their own program, so Ten Speed quickly agreed to take it on. That book became DUNGEONS & DRAGONS ART & ARCANA, authored by the nerd force of Kyle Newman, Sam Witwer, Michael Witwer, and Jon Peterson. Published in 2018, it was nominated for a Hugo Award and has sold more than 150,000 copies—and just as importantly, it has been embraced by the RPG community as one of the best visual histories of its kind. An interesting historical note—Random House has distributed D&D's books since the late '70s, and continues to do so. Jeff Abraham, the head of Penguin Random House Publisher Services, made our original introduction to the D&D team, and the great, 40+ year relationship between the companies really paved the way for Ten Speed and Clarkson Potter's thriving program. (Thanks, Jeff!)
How does the editorial/design/production process of working with a major brand like this differ from other, non-licensed books?
With most licensed properties, securing creative approvals at every stage is a more involved process than with a regular title. However in the case of D&D, the core editorial and design group is of a similar size as Ten Speed's, and everyone involved is deeply invested in the game and the publishing around it. ART & ARCANA was essentially our tryout as a partner, and after that went so well, we had a strong base of trust on which to build out the program. It can still be challenging to secure the approvals we need when deadlines are tight, as they almost always are, but Wizards/D&D have been fantastic partners. The team at Ten Speed that oversees the D&D program–led by Shaida Boroumand in editorial and Kelly Booth and Betsy Stromberg in design—do a beautiful job liaising between the writers, artists, and Wizards/D&D on each project, as does the team in Potter Gift. We also have detailed approval requirements for all our promotional materials and initiatives, and Daniel Wikey and Lauren Kretzschmar have done brilliant work on that front.
As D&D continues to become more and more popular, how do you foresee this impacting future book releases?
The growth of the game year over year has been phenomenal, this year has been no exception, with the shift to immersive, home-based activities brought about by COVID. In planning our future publishing around the game, we worked closely with D&D to track their schedule of major releases in hopes of timing ours accordingly. That said, because the game has such an incredibly rich history, with themes and settings that are timeless, we have more freedom to brainstorm ideas outside the brand cadence, whether for our line of books for young readers (the YOUNG ADVENTURERS GUIDES), the various journal formats, puzzles, or in the case of our most recent release, HEROES' FEAST, in cooking.
What's your history with D&D — when did you start playing? Do you have a go-to character you always play as?
I grew up playing D&D during the first golden age of the game, in the early 80s. The basement scene in the opening episode of Stranger Things, where the kids face off with the Demogorgon—that was me and my 6th grade friends. The character I remember most was a Druid named Rilian, who made it to 10th level and has long since retired in a shire somewhere. My most recent campaign has been running a game for a group of 9 to 13 year olds, working our way through the new starter set, searching for the Lost Mine of Phandelver. After a side trip to a lighthouse on the Sword Coast, where the party parlayed with an eccentric Giant Crab with a grudge, the group is clambering through some ruins, about to face a young green dragon.
Do you have a favorite campaign/adventure? What about a favorite dish from Heroes' Feast?
For the adventure, no question, THE LOST CAVERNS OF TSOJCANTH. When the 12-year-old me saw the cover art by Erol Otus, I was blown away (it may still be my favorite piece of fantasy art), and the extra monster manual that came with the module was a major bonus. For the dish from HEROES, the Iron Rations stave off hunger during long Zoom calls, and the classic Traveler's Stew is perfect comfort food fare for the quarantine winter nights ahead.
Posted: December 14, 2020