Abdurraqib's A LITTLE DEVIL IN AMERICA Wins 2022 Carnegie Medal for Nonfiction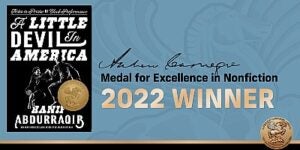 The American Library Association announced the winners of the 2022 Andrew Carnegie Medals for Excellence in Fiction and Nonfiction at the ALA RUSA (Reference and User Services Association) Book and Media Awards (BMAs) on January 23, with the nonfiction prize going to A LITTLE DEVIL IN AMERICA: Notes in Praise of Black Performance by Hanif Abdurraqib (Random House).
The Carnegie Medal judges shared the following praise: "Blending pop-culture essays, memoir and poetry, Abdurraqib delves into the many iterations of Black artistic expression through an often deeply personal lens. Whether pondering the dynamic life and contributions of Josephine Baker (to whom the book is dedicated) or meditating on his own various performances, the author's ruminations are an invitation to think deeply about Black performance on both cultural and individual levels. Startling, layered and timely, this is an essential, illuminating collection."
A LITTLE DEVIL IN AMERICA was also a finalist for last year's National Book Award for Nonfiction and is currently a finalist for the National Book Critics Circle Award for Nonfiction.
Our congratulations to Mr. Abdurraqib and everyone at Random House.
Posted: January 25, 2022