ABT Adapting Penguin Classics' JANE EYRE by Charlotte Brontë for Met Opera Stage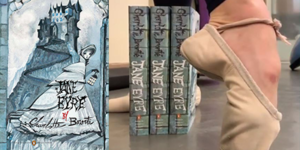 The American Ballet Theater (ABT) is adapting the Charlotte Brontë novel JANE EYRE—published by Penguin Classics—for New York City's Metropolitan Opera main stage. The limited run, June 4-10, features three different Janes performing on alternating nights: principal dancers Misty Copeland, Isabella Boylston (she has a ballerina bookclub), and Devon Teuscher will all inhabit the role. JANE EYRE is the first full-length ballet brought to the Metropolitan Opera House stage by a female choreographer since 1980.
On Friday, May 3, the JANE EYRE ballerinas will be joined at the 92nd Street Y by the ballet's choreographer Cathy Marston for a panel discussion moderated by Elda Rotor, Vice President & Publisher of Penguin Classics.
ABT is also promoting the connection to Penguin Classics' deluxe edition of JANE EYRE. Just last week they shared a terrific 7-slide post on Instagram in which the dancers twirl, jump, and stretch while reading the book.
Posted: May 2, 2019