Academy Award Nominee Rosamund Pike to Star in TV Adaptation of THE BANKER'S WIFE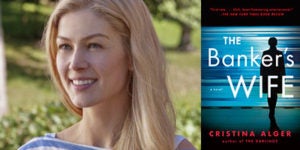 From Page to Screen: Cristina Alger's THE BANKER'S WIFE, a USA Today-bestselling and critically acclaimed thriller published by Putnam, will be adapted into a television series by Homeland producers Meredith Stiehm and Lesli Linka Glatter, featuring Rosamund Pike (a 2015 Best Actress Oscar nominee for her Gone Girl performance) in the starring role. The book was optioned earlier this summer by Federation Entertainment and Marsh Productions. They are currently pitching the project to cable and streaming networks.
With an all-female creative team and a female protagonist, this project explores the underbelly of the financial world through a strong feminist lens. Set in the world of global finance, the novel is about three women racing for answers after a mysterious plane crash sets them off on parallel pursuits of truth. As they shine a light on hidden offshore accounts, they become embedded in an intricate and dangerous conspiracy of money laundering, powerful politicians, and a web of terrorists and criminals.
THE BANKER'S WIFE was heralded by The New York Times Book Review as "First-rate… Slick, heart-hammering entertainment" and praised by blockbuster thriller writers Lee Child, Alafair Burke, Chris Pavone, Janelle Brown, Lisa Unger, and Nelson DeMille, who called the novel "a page-turning, plot-twisting international thriller of the first order." THE BANKER'S WIFE is Alger's third book, following THE DARLINGS and THIS WAS NOT THE PLAN.
Posted: September 17, 2018