Academy Award-Winner Lupita Nyong'o to Narrate Audiobook of Her Bestselling Children's Book, SULWE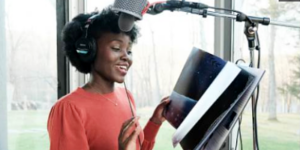 Academy Award®-winning actress Lupita Nyong'o (12 Years a Slave, Us) will narrate an audiobook edition of her #1 New York Times bestselling children's book, SULWE, to be released by Listening Library on February 23, 2021.
Five-year-old Sulwe, whose skin is the color of midnight and name means "star" in Nyong'o's native language, Luo, wishes to be beautiful and bright, like her mother, sister, and friends at school. A magical journey in the night sky opens her eyes and helps her appreciate her own unique beauty.
Sulwe's moving story was inspired by Nyong'o's own experiences with colorism and self-esteem growing up, making her a natural fit to voice the audiobook, which also includes music influenced by Nyong'o's Kenyan heritage and sound design to create an immersive listening experience.
"I'm thrilled to share Sulwe with readers in a new way," says Nyong'o. "It was exciting for me to record the audiobook myself for listeners to get to hear the voices of Sulwe, her family, and the magical world of Night and Day as I hear them in my mind. I hope families will enjoy listening together and that it sparks conversations about what makes each of us uniquely beautiful."
Published in print in 2019, Sulwe was an immediate bestseller and earned a Coretta Scott King Illustrator Honor for Vashti Harrison's art, NAACP Image Award for Outstanding Children's Literary Work, and wide critical acclaim.
A selection of praise for SULWE:
"A thoughtfully layered text and powerful illustrations address this sensitive topic [of colorism] in a uniquely nurturing way."— Kirkus Reviews, starred review
"By turns beguiling (as when Sulwe's mother counsels her tearful daughter) and magical (a shooting star darts into Sulwe's room to share the story of Night and Day), the volume also clearly conveys that colorism is real, and it hurts. Sulwe's story confronts it head-on, with words and images that celebrate the 'dark and beautiful, bright and strong.'"— Publishers Weekly, starred review
"A welcome celebration of Black girls, an important lesson for all kids (and grownups), and a necessary message for any child who has been made to feel unworthy of love on account of their looks."— Booklist
Posted: February 2, 2021