Actor/Comedian Kevin Hart to Publish Middle-Grade Series with RHCB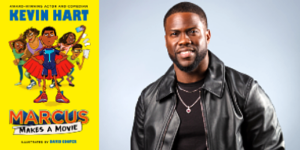 Comedian, actor, producer, and entrepreneur Kevin Hart will release his debut children's book, MARCUS MAKES A MOVIE, to be published by Crown Books for Young Readers, an imprint of Random House Children's Books, it was announced by Phoebe Yeh, VP & Publisher. The humorous novel for middle-grade readers, co-written with New York Times bestselling author Geoff Rodkey and featuring art from David Cooper, pulls from Kevin's experiences as a go-getter and father of four to celebrate do-it-yourself creativity and rising against the odds to bring your dreams to life. The first in a series, MARCUS MAKES A MOVIE will release with a first print run of 150,000 on June 1, 2021.
Kevin Hart's debut follows a boy named Marcus who dreams of making a blockbuster superhero film. When he's assigned to create a movie for an after-school class, he teams up with his creative-nemesis-turned-partner Sierra to bring the superhero comic he's written to life. Will they be able to pull off special effects with zero dollars? With the perfect amount of drive, vision, and luck, these kids from the block might just prove there's a way to make their dreams come true. With nonstop laughs from Hart and Rodkey and more than 50 black-and-white illustrations from Cooper, MARCUS MAKES A MOVIE will have readers eager for the sequel before they've even reached the last page.
As a child growing up in North Philadelphia, Hart did not have access to many books that he could see himself in. Now a father, he is eager for his children to have a different experience. With MARCUS MAKES A MOVIE, Hart seeks to do his part to bring more diversity to children's books while also sharing a message important to him: that every child has the ability to dream big and achieve their goals if they are willing to persist and put in the work, just as he did.
"When I was younger, all I heard was no," says Hart. "No, you can't. No, you're not good enough. No, you don't have the right education or know the right people. I'm stubborn, so I turned those no's into fuel. Every time I heard one, it just made me work harder to prove that whoever said it was wrong. My hope is that MARCUS MAKES A MOVIE will show kids that the only one who can really say no to their goals is themselves. If they can dream it, then they can do it."
"We're very excited to be working with Kevin Hart on this fun new series," says Yeh. "MARCUS MAKES A MOVIE is not only hilarious, but it's also very relatable and empowering in the way it shows kids using what they have to make their creative dreams a reality."
MARCUS MAKES A MOVIE will also be available as an audiobook narrated by Hart from Listening Library, an imprint of Penguin Random House Audio, releasing simultaneously on June 1, 2021.
Yeh acquired world rights to MARCUS MAKES A MOVIE and an untitled sequel from Marc Gerald of Europa Content.
Emmy-nominated producer Kevin Hart was born and raised in Philadelphia, where he launched his career as a comedian during an amateur night at a local comedy club. Over the years Hart has become a Hollywood powerhouse, opening ten films at number one at the box office. Hart has popularized characters in the beloved Jumanji franchise and The Secret Life of Pets 2, his newest stand-up special became Netflix's biggest stand-up special of 2020, and his memoir, I Can't Make This Up, debuted at number one on the New York Times bestseller list, remaining on the Top 10 Print Hardcover Bestsellers List for ten weeks straight. In addition to selling out theaters and arenas for his comedy tours, Hart is the founder of the Laugh Out Loud Network, which serves as a platform for emerging comedians and is home to two premium series both featuring Hart. Hart also launched Laugh Out Loud Radio channel 96 on SiriusXM, with Hart hosting alongside longtime friends and fellow comedians the Plastic Cup Boyz. In April 2019, their featured talk show Straight from the Hart became available on Pandora and now ranks as the number one podcast across all genres.
Geoff Rodkey is the author of the bestselling Tapper Twins comedy series; the Chronicles of Egg adventure trilogy; We're Not from Here, an NPR and Kirkus Best Book of the Year; and The Story Pirates Present: Stuck in the Stone Age, a comic novel bundled with a how-to guide for kids who want to create stories of their own. His first novel for adults, Lights Out in Lincolnwood, publishes in July. He's also the Emmy-nominated screenwriter of such films as Daddy Day Care and RV.
David Cooper is a multimedia artist and muralist, born and raised in Brooklyn, New York. His work has appeared on book covers, ad campaigns, and editorial publications, such as the New York Times, Print Magazine, and POZ magazine. He has painted large-scale murals at Miami Art Basel, Brooklyn, and has been exhibited at the New York Society of Illustrators.
Posted: January 14, 2021