Actress Marisa Tomei Narrates Elena Ferrante's THE LYING LIFE OF ADULTS Audiobook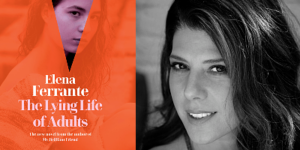 Academy Award®-winner Marisa Tomei narrates the audiobook of Elena Ferrante's upcoming standalone novel THE LYING LIFE OF ADULTS (Random House Audio, on sale September 1, 2020), her first solo audiobook narration.
Tomei is an enthusiastic reader of Ferrante's Neapolitan novels, and a fitting choice to voice the Italian novelist's memorable female characters – Vogue recently said she's "built her career turning the characters audiences are most likely to overlook into the characters who are impossible to ignore."
Tomei comments: "As a devoted fan of Elena Ferrante's My Brilliant Friend and Neapolitan novels, I was honored and thrilled to be asked to narrate the audiobook for THE LYING LIFE OF ADULTS . The recording was very emotional at times — both the director and I cried as we relived the trying, heartbreaking, and exuberant moments from our own girlhood, feelings so specifically captured in Ferrante's otherworldly writing.
"Ferrante illuminates the intricacies and subtle moments of growing up that suddenly make you who you are before you know it. Being in Giovanna's skin, inhabiting such raw adolescent feelings as she faces her own autonomy and agency, sexism, and classism, was a savage, raw confrontation of life in its fullness."
THE LYING LIFE OF ADULTS, one of the most highly anticipated publications of 2020 and soon to be a Netflix series, is a powerful portrayal of a divided Naples and the transition from childhood to adolescence to adulthood.
Giovanna's pretty face is changing, turning ugly, at least so her father thinks. Giovanna, he says, looks more like her Aunt Vittoria every day. But can it be true? Is she really changing? Is she turning into Aunt Vittoria, a woman she hardly knows but whom her mother and father clearly despise? Surely there is a mirror somewhere in which she can see herself as she truly is.
Giovanna is searching for her reflection in two kindred cities that fear and detest one another: Naples of the heights, which assumes a mask of refinement, and Naples of the depths, a place of excess and vulgarity. She moves between both in search of the truth, but neither city seems to offer answers or escape.
Marisa Tomei is an acclaimed actress of great versatility who has appeared on stage, screen, and film. She received an Academy Award® for Best Supporting Actress for My Cousin Vinny, and received Academy Award® nominations for In the Bedroom and The Wrestler. She has appeared on stage both on and off Broadway, and recently wrapped her run in Tennessee Williams' The Rose Tattoo, which marked her return to the Broadway stage. The Lying Life of Adults is her first solo audiobook performance.
Elena Ferrante is the author of The Days of Abandonment (Europa, 2005), which was made into a film directed by Roberto Faenza, Troubling Love (Europa, 2006), adapted by Mario Martone, and The Lost Daughter (Europa, 2008), soon to be a film directed by Maggie Gyllenhaal. She is also the author of Frantumaglia: A Writer's Journey (Europa, 2016) in which she recounts her experience as a novelist, and a children's picture book illustrated by Mara Cerri, The Beach at Night (Europa, 2016). The four volumes known as the "Neapolitan quartet" (My Brilliant Friend, The Story of a New Name, Those Who Leave and Those Who Stay, and The Story of the Lost Child) were published in America by Europa between 2012 and 2015. The first season of the HBO series "My Brilliant Friend," directed by Saverio Costanzo, premiered in 2018.
Ann Goldstein has translated into English all of Elena Ferrante's books, including the New York Times bestseller, The Story of the Lost Child, which was shortlisted for the MAN Booker International Prize. She has been honored with a Guggenheim Fellowship and is the recipient of the PEN Renato Poggioli Translation Award. She lives in New York.
Posted: August 3, 2020