Adam Gidwitz and Emma Otheguy Present and Read A UNICORN RESCUE SOCIETY #5 via Zoom (5/13)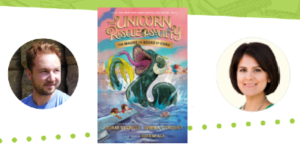 Adam Gidwitz and Emma Otheguy will talk about and read from the fifth title in THE UNICORN RESCUE SOCIETY series, THE MADRE DE AGUAS OF CUBA (Dutton Books for Young Readers) in a virtual event hosted by Greenlight Bookstore via Zoom on Wednesday, May 13 at 2:00pm (ET).
In THE MADRE DE AGUAS OF CUBA, critically acclaimed author Emma Otheguy joins Newbery Honor-winning Adam Gidwitz as co-author of the newest adventure in the New York Times bestselling Unicorn Rescue Society series as the kids travel to Cuba to help the legendary Madre de aguas.
Adam Gidwitz taught in Brooklyn for eight years. Now, he writes full-time—which means he writes a couple of hours a day, and lies on the couch staring at the ceiling the rest of the time. As is the case with all of his books, everything in them not only happened in the real fairy tales . . . it also happened to him.
Emma Otheguy is the author of the picture books Martí's Song for Freedom, which received five starred reviews, and Pope Francis: Builder of Bridges. A native and current resident of New York City, Emma is a historian of Spain and colonial Latin America. This is her first middle-grade novel.
!! As a reminder, if you are a PRH employee posting to a personal or other non-PRH account, you must include the hashtag #TeamPRH !! 
Posted: May 12, 2020