Adam Grant In Conversation with Ashton Kutcher about THINK AGAIN via YouTube (2/9)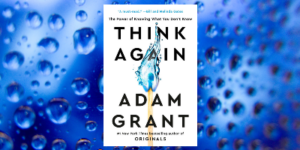 Live Talks Los Angeles presents Adam Grant, whose new book is THINK AGAIN: The Power of Knowing What You Don't Know (Viking), in conversation with Ashton Kutcher via YouTube on Tuesday, February 9 at 9:00 pm (ET).
In THINK AGAIN, the bestselling author of Give and Take and Originals examines the critical art of rethinking: learning to question your opinions and open other people's minds, which can position you for excellence at work and wisdom in life. With bold ideas and rigorous evidence, Grant investigates how we can embrace the joy of being wrong, bring nuance to charged conversations, and build schools, workplaces, and communities of lifelong learners. You'll learn how an international debate champion wins arguments, a Black musician persuades white supremacists to abandon hate, a vaccine whisperer convinces concerned parents to immunize their children, and Adam has coaxed Yankees fans to root for the Red Sox.
THINK AGAIN reveals that we don't have to believe everything we think or internalize everything we feel. It's an invitation to let go of views that are no longer serving us well and prize mental flexibility over foolish consistency. If knowledge is power, knowing what we don't know is wisdom.
Adam Grant is an organizational psychologist at Wharton, where he has been the top-rated professor for seven straight years. He is an expert in how we can find motivation and meaning, and lead more generous and creative lives. He is the #1 New York Times bestselling author of four books that have sold millions of copies and been translated into 35 languages: Give and Take, Originals, Option B, and Power Moves. His books have been recognized as among the year's best by Amazon, the Financial Times, Harvard Business Review, and the Wall Street Journal and been praised by J.J. Abrams, Richard Branson, Bill and Melinda Gates, Malcolm Gladwell, and Malala Yousafzai.
!! As a reminder, if you are posting to a personal or other non-PRH account you must include the hashtag #TeamPRH !!
Posted: February 5, 2021