Adib Khorram In Conversation with Nic Stone via Zoom (8/28)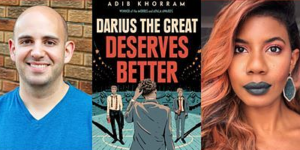 Adib Khorram, author of DARIUS THE GREAT DESERVES BETTER (Dial Book for Young Readers), will be in conversation with Nic Stone at a virtual event hosted by Boswell Books via Zoom on Friday, August 28 at 8:00pm (ET).
In this companion to the award-winning Darius the Great Is Not Okay, Darius suddenly has it all: a boyfriend, an internship, a spot on the soccer team. It's everything he's ever wanted–but what if he deserves better?
Adib Khorram lives in Kansas City, Missouri. His debut novel Darius the Great Is Not Okay received the William C. Morris Award and APALA Young Adult Literature Award. The novel was also named a Best Book of 2018 by TIME, Buzzfeed, The Wall Street Journal, and The Boston Globe, among others. When he isn't writing (or at his day job as a graphic designer), you can probably find him trying to get his hundred-yard freestyle under a minute, learning to do a Lutz jump, or steeping a cup of oolong.
Nic Stone is an Atlanta native and a Spelman College graduate. After working extensively in teen mentoring and living in Israel for several years, she returned to the United States to write full-time. Nic's debut novel for young adults, Dear Martin, was a New York Times bestseller and William C. Morris Award finalist. She is also the author of the upcoming Dear Justyce, the sequel to Dear Martin, and Odd One Out, a novel about discovering oneself and who it is okay to love.
!! As a reminder, if you are posting to a personal or other non-PRH account you must include the hashtag #TeamPRH !!
Posted: August 27, 2020