Afia Atakora Shares Her Writer's Routine for the Creation of Her Debut Novel via Instagram (4/22)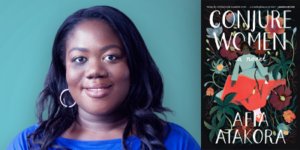 Afia Atakora, author of CONJURE WOMEN (Random House), is featured on the Random House Writer's Routine virtual event, where she will share insights into the creation of her first novel and glimpses of her writing space via Instagram on Wednesday, April 22, at 12:30pm.
CONJURE WOMEN, recently named the Barnes & Noble Book Club April Pick, is a sweeping debut novel that brings the world of the South before and after the Civil War vividly to life. Though her extensive research from primary sources including first-person accounts, diaries, autobiographies recounted through amanuenses, and discussions with midwives and doctors, Atakora imbues her book with historical truths—with powerful results.
Atakora has been a finalist for the Hurston/Wright Award for College Writers as well as a nominee for a Pushcart Prize. A graduate of NYU's Tisch School of the Arts, she also has an MFA from Columbia University where she was a recipient of the De Alba Fellowship.
Afia Atakora photo: © Edwin Tse
!!A reminder for PRH employees: If you are posting this article to a personal or other non-PRH account you must include the hashtag #TeamPRH.!!
Posted: April 21, 2020