Afia Atakora's CONJURE WOMEN Named New Barnes & Noble Book Club Pick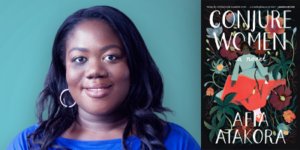 Barnes & Noble announced this morning that CONJURE WOMEN by Afia Atakora (Random House) is the April B&N Book Club pick. This lush, unforgettable debut novel is on sale today. On Monday, May 4, at 7:00 pm (ET), Atakora will be live on B&N Instagram in conversation with bestselling Random House author Amy Bloom.
CONJURE WOMEN is a sweeping debut novel that brings the world of the South before and after the Civil War vividly to life. Though her extensive research from primary sources including first-person accounts, diaries, autobiographies recounted through amanuenses, and discussions with midwives and doctors, Atakora imbues her novel with historical truths—with powerful results.
Spanning eras and generations, this is the story of three unforgettable women: Miss May Belle, a wise healing woman; her precocious daughter Rue, who is reluctant to follow in her mother's footsteps as a midwife; and their master's white daughter Varina. The intimate bonds and transgressions among these women and their community come to a head at the birth of an accursed child on the plantation who sets the townspeople alight with fear and superstition that threatens their newly-won, tenuous freedom.
Atakora has been a finalist for the Hurston/Wright Award for College Writers as well as being nominated for a Pushcart Prize. A graduate of NYU's Tisch School of the Arts, she also has an MFA from Columbia University where she was a recipient of the De Alba Fellowship.
Afia Atakora photo: © Edwin Tse
Posted: April 7, 2020