Afro Unicorn Founder and CEO April Showers to Launch Publishing Program with Random House Children's Books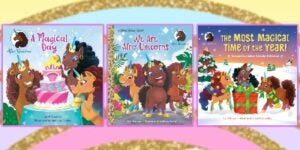 Random House Children's Books announced today the book publishing program launch for Afro Unicorn®, a brand founded by April Showers, designed to remind women and children of color how unique, divine, and magical they are. Six original books will be released in a variety of formats in 2023 and 2024 under the Random House Books for Young Readers imprint and will be illustrated by Paris-based illustrator Anthony Conley.  
The Afro Unicorn® brand began in 2019 when Showers printed a unicorn T-shirt for Black and Brown girls, planning to sell direct-to-consumer and publicizing her new product on Instagram. Her post went viral, garnering the interest of celebrities like Alicia Keys, Sherri Shepherd, and Gayle King, as well as media such as CBS News, Ebony, Essence, and an appearance on Good Morning America. The Afro Unicorn® brand also captured the attention of retail giant Walmart, which approached April to sell Afro Unicorn® products in their stores. In June 2022, an exclusive line of Afro Unicorn® party supplies launched in Walmart stores across the country, shortly followed by girls' apparel, stationery, jewelry sets, and holiday merchandise. 
The new line of Afro Unicorn® books releases widely in Fall 2023 and will star April's three characters that are featured by name across all Afro Unicorn® products. On sale on September 5, 2023, is an 8×8 picture book, A MAGICAL DAY, along with the Little Golden Book WE ARE AFRO UNICORNS. On sale on October 10, 2023, is a Christmas-themed hardcover picture book, THE MOST MAGICAL TIME OF THE YEAR! Spring 2024 will mark the release of another 8×8 picture book, DIVINE MAKES A SPLASH!, as well as the board book YOU ARE A UNICORN: AFROMATIONS TO BE YOUR MOST MAGICAL SELF. A second board book will follow in Fall 2024.  
April's goal from the start was to help normalize Black beauty and encourage Black and Brown girls to feel comfortable in their skin and embrace the crown on their heads. April was inspired to start Afro Unicorn® following a conversation with a close friend who referred to her as a "unicorn" for her ability to balance her two business ventures as a real estate agent and insurance business owner, her children, and a bustling personal life, while still being motivated to do more. This prompted her to use her new favorite emoji, the unicorn, which is only available in white and lacks representation. She started working with a graphic designer to create a unicorn of her likeness, and in turn, created multiple shades to represent a range of women of color—and Afro Unicorn® was born. April Showers became a true pioneer as the first female, Black-owned business to own a licensed character brand in major retail.  
"I am so excited to work with Random House Children's Books to finally bring our Afro Unicorns to life," says April Showers. "Now little girls everywhere will be able to connect with Unique, Divine, and Magical on a much deeper level. These girls will now have the opportunity to step into the world of Afronia." 
The deal was negotiated by Michelle Nagler, and the books will be edited by Senior Executive Editor Sara Sargent. "We are thrilled to have this lineup of Afro Unicorn® books at Random House Children's Books," says Sara Sargent. "With these books, we hope to support April's mission to ensure that Black and Brown girls everywhere can see themselves represented through their favorite magical characters and stories." 
Posted: February 8, 2023