Alaskan Library Wins a Visit from Randall Munroe, xkcd Creator and #1 NYT Bestselling Author of HOW TO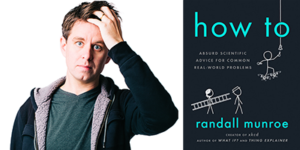 The Mendenhall Valley Public Library in Juneau, Alaska has won a visit from Randall Munroe, #1 New York Times bestselling author of HOW TO: Absurd Scientific Advice for Common Real-World Problems. The library was selected as the winner of a contest Riverhead launched in June to give millions of xkcd fans a say in which city the former NASA roboticist and creator of the wildly popular stick-figure webcomic should add to his book tour for HOW TO. Washington Post critic Ron Charles covered the contest and winner in his books newsletter.
The "How To Bring Randall Munroe to Your Town" contest challenged bookstores, libraries, and readers of all kinds to arrange the titles of their favorite books into sentences that tell a story, and to share a photo or video of their "story," held up by a human chain. Over 100 parties participated in the contest, producing creative, amusing, and particularly stand-out entries like Minnesota's Content Bookstore and one man's attempt in Neptune Beach, FL to enter by writing and self-publishing a book.
The Mendenhall Valley Public Library of Juneau, Alaska took home the prize for sending in a four-part Youtube video of a story told with 100 book covers held up by many members of the community. Juneau, Alaska will be the 15th stop on Randall Munroe's three week long, partially sold out book tour around the country. Munroe's #1 New York Times bestselling books What If? and Thing Explainer have sold several million copies worldwide and What If? spent 64 weeks on the New York Times bestseller list.
Here's a look at the winning video:
Posted: September 9, 2019