Alex Kotlowitz's AN AMERICAN SUMMER Shortlisted for Stephan Russo Book Prize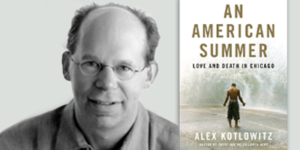 Goddard Riverside has announced its Stephan Russo Book Prize for Social Justice six-title shortlist, which includes AN AMERICAN SUMMER: Love and Death in Chicago by Alex Kotlowitz, published in May 2019 by Nan A. Talese/Doubleday. This award, now in its third year, is named after Stephan Russo, who served as executive director of Goddard Riverside from 1998 to 2017. and celebrates the power of the written word to create change in the name of justice for all.
From the bestselling author of There Are No Children Here, AN AMERICAN SUMMER is a richly textured, heartrending portrait of love and death in Chicago's most turbulent neighborhoods. Over the past twenty years in Chicago, 14,033 people have been killed and another roughly 60,000 wounded by gunfire. What does that do to the spirit of individuals and community? Drawing on his decades of experience, Mr. Kotlowitz set out to chronicle one summer in the city, writing about individuals who have emerged from the violence and whose stories capture the capacity–and the breaking point–of the human heart and soul. The result is a spellbinding collection of deeply intimate profiles that upend what we think we know about gun violence in America.
Stephan Russo Book Prize for Social Justice shortlist was chosen by a distinguished slate of judges including Paul Krugman, New York Times columnist and Nobel Prize winner; Marcia Cantarella, university administrator and author of I CAN Finish College: The Overcome Any Obstacle and Get Your Degree Guide; Nancy Wackstein, former executive director of United Neighborhood Houses of New York; and Michael Zisser, former CEO of University Settlement and The Door. The panel is chaired by Douglas Bauer, executive director of The Clark Foundation.
To view the complete Stephan Russo Book Prize for Social Justice shortlist, click here
The winner will be announced at Goddard Riverside's annual gala on October 22 at Manhattan's Gotham Hall.
Posted: October 16, 2019