Alex Kotlowitz's AN AMERICAN SUMMER Wins J. Anthony Lukas Book Prize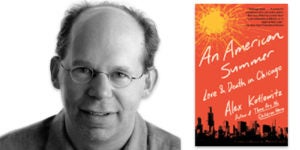 Columbia Journalism School and the Nieman Foundation for Journalism have announced the winners of the 2020 J. Anthony Lukas Prize Project Awards, and author Alex Kotlowitz won this year's $10,000 book prize for AN AMERICAN SUMMER: Love and Death in Chicago. (Nan A. Talese/Doubleday/Anchor). The prize honors superb examples of nonfiction writing and original research dedicated to a topic of American political or social concern.
In their assessment of Kotlowitz's book, judges wrote: "Chicago has some of the most impoverished and segregated urban neighborhoods in the country. In the past 20 years, more than 14,000 people have died there as a result of gun violence and other crimes. The triumph of AN AMERICAN SUMMER is that this familiar story is rendered with compassion and insight as well as a fresh, compelling urgency. In a series of daily dispatches, Alex Kotlowitz chronicles the summer of 2013 in vibrant, revelatory prose that captures the drama and complexity of life in the city's toughest neighborhoods. The result is a nuanced, dispassionate portrait — a classic of immersive journalism. As Kotlowitz writes, 'It's in these, the most ravaged of our communities . . . that we can come to understand the makings of who we are as a nation.'"
Two other PRH books were shortlisted for the award: Emily Bazelon's CHARGED: The New Movement to Transform American Prosecution and End Mass Incarceration (Random House) and THE CODE: Silicon Valley and the Remaking of America by Margaret O'Mara (Penguin Press).
Congratulations to Mr. Kotlowitz and the teams at Nan A. Talese/Doubleday and Anchor team upon the winning of this prestigious award. You can view the full list of this year's winners and finalists here.
Posted: March 23, 2020