Alexander McCall Smith on How His Characters Keep His Stories Fresh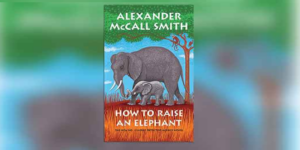 Alexander McCall Smith's latest novel in his bestselling No. 1 Ladies' Detective Agency series , HOW TO RAISE AN ELEPHANT (Knopf), sees Precious Ramotswe calling upon all her maternal instincts when she's faced with a two-ton case. In this Meet Our Author Igloo interview, McCall Smith talks about how he continues to bring a fresh approach to writing this series, the origin of the idea to introduce an elephant into the book's storyline, and a personal message for readers.
As a writer, how do you keep revitalizing your No. 1 Ladies' Detective Agency series?
Over the years I have been able to get back to Botswana on a number of occasions. These trips give me ideas and keep me in touch with the country. I also find that if I allow the characters to lead their lives in my imagination, they keep the story fresh themselves.
In your latest book, what sparked the idea to have the central case involve a pachyderm?
I was in Botswana – in the north of the country – and by chance I met a very charitably-minded lady from Dallas, Texas, who had set up a sanctuary for orphaned baby elephants. She told me about her work and it inspired me.
What message would you like to share with your loyal fans and new readers who are discovering the No. 1 Ladies' Detective Agency series?
I suppose I would want to say that I have found great pleasure in thinking about Mma Ramotswe. She has become a sort of virtual friend to me and I have learned a lot from her. I would hope that people who have not yet encountered her will make her acquaintance. She is waiting for you – ready to welcome you to her world – and ready, too, to serve you her favorite redbush tea!
Posted: November 24, 2020