Alexandra Thompson Launches Her New Picture Book with Virtual Storytime via Instagram (6/9)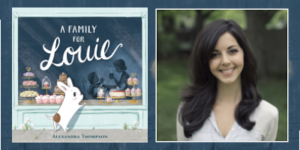 Join author and illustrator Alexandra Thompson for Virtual Storytime as she launches her new picture book A FAMILY FOR LOUIE (Putnam Books for Young Readers) with a reading and Q&A via Instagram on Tuesday, June 9 at 6:00pm (ET).
In A FAMILY FOR LOUIE, on the Kids' Indie Next List, a foodie French bulldog finds a forever home in this heartwarming debut picture book. Here is a glimpse of the story:
Meet Louie. He's a dog of very fine taste. He knows every chef in town, and each day he wanders the city, visiting his favorite restaurants. It's a good life, except… Louie is all on his own. What Louie wants more than anything is a family. But try as he might, Louie can't seem to find a family that's right for him. At the beach, he meets a little boy and his mother… but they're eating green jello salad and sardine sandwiches (Louie's least favorite foods!). At his favorite sushi restaurant, Louie spies a father and daughter with an open seat at their table … but their cat chases him away. At the park, he meets a nice family having a yummy barbecue, but when they invite him to play Frisbee … Louie just can't keep up. Where-oh-where will Louie find a just-right family of his very own?
!! As a reminder, if you are a PRH employee posting to a personal or other non-PRH account, you must include the hashtag #TeamPRH !! 
Posted: June 6, 2020