All-Star Rock Star Celebrity Cast Narrates New Beastie Boys Audiobook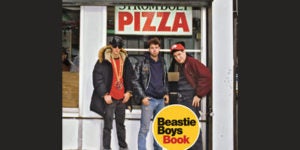 The eagerly-awaited BEASTIE BOYS BOOK goes on sale today, October 30, in hardcover and eBook editions from Spiegel & Grau and as an audiobook from Random House Audio. Formed as a New York City hardcore band in 1981, Beastie Boys struck an unlikely path to global hip-hop superstardom. For more than thirty years, this band has had an inescapable and indelible influence on popular culture.
Now, for the first time, their story is told in the words of authors Michael "Mike D" Diamond and Adam "ADROCK" Horovitz, along with a full cast of more than 40 friends and collaborators. The audiobook will be a panoramic listening experience, featuring narrations from a star-studded cast of rock stars and celebrated entertainment icons, including: Steve Buscemi, Exene Cervenka, Elvis Costello, Snoop Dogg, Kim Gordon, Spike Jonze, LL Cool J, Rachel Maddow, Bette Midler, Mix Master Mike, Rosie Perez, Amy Poehler, Rev Run, Chloe Sevigny, Jon Stewart, Ben Stiller, Wanda Sykes and Jeff Tweedy – with Mike D and ADROCK. To view the complete cast list, go to the audiobook product page here.
Horovitz and Diamond offer revealing and very funny accounts of the band's transition from teenage punks to budding rappers; their early collaboration with Russell Simmons and Rick Rubin; the debut album that became the first hip hop record ever to hit #1, Licensed to Ill—and the album's messy fallout as the band broke with Def Jam; their move to Los Angeles, and rebirth with the genre-defying masterpiece Paul's Boutique; their evolution as musicians and social activists over the course of the classic albums Check Your Head, Ill Communication and Hello Nasty and the Tibetan Freedom Concert benefits conceived by the late Adam "MCA" Yauch; and more.
Beastie Boys are one of the longest-lived hip hop acts worldwide. They were inducted into the Rock and Roll Hall of Fame in 2012, received the MTV Michael Jackson Video Vanguard Award in 1998, and have won three Grammy Awards.
Posted: October 30, 2018