All Ways Black to Host Virtual Read-a-Thon for James Baldwin's Birthday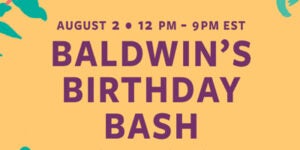 On Monday, August 2, All Ways Black will host Baldwin's Birthday Bash, a 9-hour read-a-thon celebrating James Baldwin's birthday. From 12;00 to 9:00PM (ET), participants can tune into Instagram Live, where influential bookstagrammers, writers, and cultural figures will host live and silent (D.E.A.R) readings of Baldwin's novel, Go Tell it on the Mountain. Along with readings, the event will feature celebrations and challenges reminiscent of an old-fashioned birthday party, like bingo and "pin the pen to the writer."
Hosted by All Ways Black Curator Cree Myles, the lineup for the event will include:
Eddie Glaude, author, Begin Again, @esglaude
James Baldwin and Company, Bookstore, @baldwinandcompany
Nia Allen, Bookstagrammer, @pagesgalore
Courtney Coulter, Bookstagrammer, @coco_chasing_adventures
And more!
Be sure to follow @allwaysblack and tune in Live on Instagram this Monday!
For more information about the read-a-thon, contact Carly Gorga.
Posted: July 29, 2021