Amanda Eyre Ward Discusses THE JETSETTERS on Instagram Live (4/2)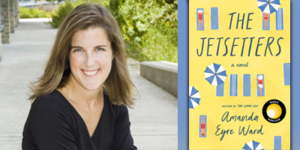 Amanda Eyre Ward will discuss her new book, THE JETSETTERS (Ballantine), on Instagram Live, hosted by the Texas Book Festival ,Thursday, April 2, 1:30pm (ET).
Can four lost adults find the peace they've been seeking by reconciling their childhood aches and coming back together? THE JETSETTERS, a Reese's Book Club x Hello Sunshine Book Pick, is a delicious and intelligent novel about the courage it takes to reveal our true selves, the pleasures and perils of family, and how we navigate the seas of adulthood.
The critically acclaimed author of six novels, including How to Be Lost, Close Your Eyes, and The Same Sky, Amanda Eyre Ward lives in Austin, Texas, with her family.
Posted: April 1, 2020