Amazon Names EDUCATED Best Book of the Year and THE SEASON OF STYX MALONE Top Children's Book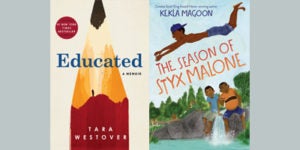 This morning, Amazon.com announced its selections for the Best Books of 2018, naming Tara Westover's EDUCATED: A Memoir(Random House) the Best Book of the Year and Kekla Magoon's THE SEASON OF STYX MALONE (Wendy Lamb Books) #1 Children's Book. 
"I couldn't be more pleased that EDUCATED was chosen Best of the Year," said Tara Westover. "It's kind of unbelievable, actually. But unbelievable in the very best way."
"This year we read many great books across many different genres, but one story—a true story—stood out to us for its bravery, insight, and that fact that it's so very readable," said Chris Schluep, Amazon Senior Book Editor. "Tara Westover's EDUCATED is a rare gem of a memoir—it surprises and inspires, and we want to tell everyone: read this book!"
Amazon's annual list features the Top 100 books of the year plus Top 20 lists across various categories ranging from biography, literary fiction, and mystery to children's and young adult. All lists are hand-selected by Amazon's team of editors—first by choosing the best books of every month and then, finally, the best books of the year. To see the full lists of Amazon's Best Books of 2018, click here.
In addition to EDUCATED and THE SEASON OF STYX MALONE, there are more titles published by Penguin Random House imprints that are being lauded by Amazon. The Amazon Editorial Team's Top 10 Picks of 2018 list also includes Esi Edugyan's WASHINGTON BLACK: A Novel (Knopf), Francisco Cantú's THE LINE BECOMES A RIVER: Dispatches from the Border (Riverhead), and Tommy Orange's THERE THERE: A Novel(Knopf).
Posted: November 9, 2018