Amazon Picks Amor Towles' THE LINCOLN HIGHWAY #1 Book of 2021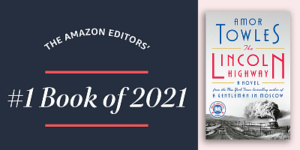 Amor Towles' THE LINCOLN HIGHWAY (Viking) has been selected as the Best Book of the Year by Amazon Books Editors—the eighth straight year that a Penguin Random House title has been their top pick. Seven of this year's Top Ten are ours.
In announcing their choices for Best Books of 2021, Sarah Gelman, Editorial Director of Amazon Books, said, "We all had our personal favorites this year, but the one book the team unanimously agreed on was Amor Towles' THE LINCOLN HIGHWAY—we just couldn't stop talking about it. The four main characters' sense of innocence felt like the hope we needed as we end this year."
A delighted Amor Towles responded, "It's a real honor to have THE LINCOLN HIGHWAY singled out by the team at Amazon. I can only hope that their confidence in the book is matched by the enjoyment of readers who join Emmett, Billy, Duchess, and Woolly on their fateful journey."
Michael Rotondo, Vice President, Online & Digital Sales, Penguin Random House, said, "This success is testament to our publishers continuing to produce the best books in the industry, as well as to hard work by each individual rep, their relationships with Amazon editors, and to a true team effort."
In addition to the top pick, PRH titles represent 7 of Amazon's Top 10: #1: THE LINCOLN HIGHWAY by Amor Towles (Viking); #2: CRYING IN H MART by Michelle Zauner (Knopf); #6: EMPIRE OF PAIN: The Secret History of the Sackler Dynasty by Patrick Radden Keefe (Doubleday); #7: HARLEM SHUFFLE by Colson Whitehead (Doubleday); #8: GREAT CIRCLE by Maggie Shipstead (Knopf); #9: PROJECT HAIL MARY by Andy Weir (Ballantine); and #10: KLARA AND THE SUN by Kazuo Ishiguro (Knopf).
To view the full list of Amazon's Best Books of 2021, click here.
Posted: November 17, 2021