Anchor Author Brendan Slocumb In Conversation With His Editor Edward Kastenmeier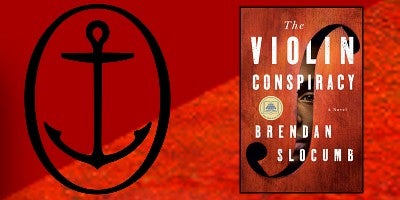 Brendan Slocumb, the author of THE VIOLIN CONSPIRACY (Anchor), will be discussing his debut novel in conversation with Vintage Anchor Editorial Director Edward Kastenmeier during a virtual event co-hosted by the Darien Library and Barrett Bookstore via Zoom tomorrow, Wednesday, March 23 at 7:00 pm (ET).
To register for this event, click here.
Set in rural North Carolina, THE VIOLIN CONSPIRACY is the gripping story of Ray McMillian, a Black classical musician, who is very determined to become a world-class professional violinist. He won't allow any obstacle to derail his dreams, especially not his mother, who wants him to stop making such a racket, or the fact that he can't afford a violin suitable to his talents. After finding out that his great-great-grandfather's old, run-down fiddle is surprisingly a priceless Stradivarius, those lofty dreams don't seem as far away. However, on the night before the most distinguished competition of his new musical career, the violin is stolen and Ray will have to race against the clock to recover the Strad before it's too late.
Brendan Slocumb was born in Yuba City, California, and was raised in Fayetteville, North Carolina. He is a graduate of the University of North Carolina at Greensboro with a degree in music education with concentrations in Violin and Viola. For more than twenty years, he has been a public and private music educator and is a Nobel Educator of Distinction. THE VIOLIN CONSPIRACY is his debut novel.
Edward Kastenmeier is the Editorial Director of Vintage Anchor Books hardcovers and Executive Editor at the Knopf Doubleday Publishing Group. A thirty-year veteran of imprint, he has also long overseen the Vintage Crime / Black Lizard publishing program. Edward has edited and published books by Alexander McCall Smith, Jo Nesbø, Robert Harris, Lars Kepler, James Ellroy, Mark Z. Danielewski, Andrea Wulf, Christopher McDougall, Brian Greene, Michio Kaku, Leonard Mlodinow, among many others, and now adds Brendan Slocumb to this list.
!! A reminder: You can share this feature. If you are posting to a personal or other non-PRH account you must include the hashtag #TeamPRH !!
Posted: March 21, 2022