Anchor Fiction-Bestseller Trifecta: Kevin Kwan's "Crazy Rich Asians" Trilogy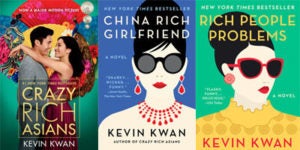 The Anchor editions of Kevin Kwan's fiction trilogy – CRAZY RICH ASIANS, CHINA RICH GIRLFRIEND and RICH PEOPLE PROBLEMS – command the top three positions, respectively, on the Sunday, September 9 New York Times Trade Paperback bestseller list — an almost unprecedented single-author-and-publisher trifecta last accomplished in 2012, by sister imprint Vintage, with E L James's FIFTY SHADES trilogy. There are over 3.7 million copies of the "Crazy Rich Asians" trilogy in print in the U.S. and Canada, across all formats. And the Crazy Rich Asians Warner Bros. film has grossed $117 million in North America after just three weekends in theaters.
Anne Messitte, Executive Vice President of Knopf Doubleday Publishing Group and Publisher of Vintage and Anchor Books: "We've had an ideal partnership with Kevin and Warner Bros. to build the CRA trilogy into a true cross media phenomenon. The collaboration started far in advance of the film release — sharing marketing assets and campaign strategies, and messaging the audience in a very coordinated way. It has brought the publishing results to an extraordinary level, one that's only just getting started."
Beloved by an ever-increasing number of readers since their Doubleday hardcover publications, the Anchor editions are enjoying mega-bestsellerdom this summer on the strength of the CRAZY RICH ASIANS, whose #1 status at the box office, like the novel that inspired it, is driven by enormous word of mouth. The film's performers and creators, as well as our author, have become the subjects of intense media fascination worldwide.
Last month, Warner Bros. gave the go-ahead to the "Asians" producers to develop an adaptation for CHINA RICH GIRLFRIEND, the second book in the series, for the screen, assuring a long life and ever-growing readership for the trilogy.
Posted: September 4, 2018